« Game Change, The Greatest Political Book in 20 Years?
|
Main
|
Anti-Flaming Skull: Boston Globe Poll Has Coakley Up 15 In MA Senate Race »
January 09, 2010
Overnight Open Thread (Mætenloch)
Hello, hello all M&Ms. Welcome to the weekend so pull up a stool and let's get started.
Survivorman vs. Bear Grylls Update: Bear Grylls Strikes Back With a Guano Water Enema
Okay Bear goes where Survivorman probably wouldn't. And probably wouldn't have to. So always be sure and carry some rubber tubing with you. Just in case.
Man blamed for N.J. airport security breach arrested
Haisong Jiang, 28, is a Ph.D. student at Rutgers and crossed under the security rope to kiss his girlfriend goodbye. The breach forced the closure of the terminal for 6 hours while passengers were re-scanned and also caused air traffic to back up around the world. Yes Jiang deserves every bit of the $500 fine but let's reflect on everything the TSA did wrong:
- The TSA guard responsible for the exit left his post. Despite the TSA being non-unionized, he is currently being defended by the AFGE union
- There were no one-way exit stiles like nearly every subway system has - just a rope.
- The TSA surveillance cameras at the security checkpoint did not work - they had to use backup Continental cameras.
This is not security - it's security theater. And Mark Steyn has some thoughts on the case.
Sad news: Longtime moron commenter rightwingprof has died from lung cancer
A Facebook page has been set up with memorial details.
Maybe not - Rightwingprof has shown up claiming he's still alive. He could still be a zombie though so stay out of biting range.
Update: Okay apparently there are two rightwingprofs - one was a professor of linguistics who used to comment here until he got too sick and one who came later (Rightwingprof) who is a professor of finance and very much alive. Mystery cleared up now.
Urban Explorers make it to the Top of the Golden Gate Bridge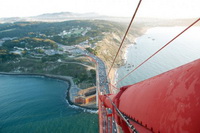 Reagan's Grandson Arrested
I'm just glad that Ronnie wasn't around to see that his 31 yo grandson has become a K-Fed wannabe.
Commercials That Would Never Air Today
Since smoking and drinking are now officially government-discouraged. (thanks to zedzero)
What's New, Pussycat? Using the Toilet
Apparently kittehs can be toilet-trained. Kind of. (thanks to runningrn)
And don't forget about the Yahoo AoSHQ group.
Tonight's post brought to you by ginger kittehs: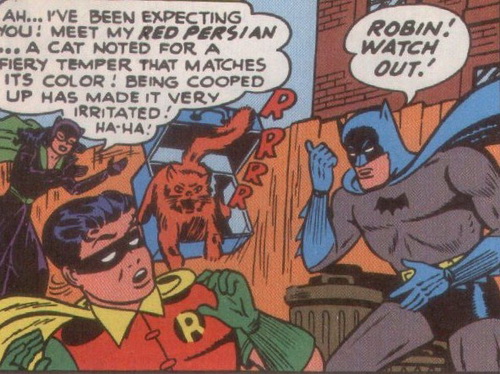 Notice: Posted by permission of AceCorp LLC. Please e-mail overnight open thread tips to maetenloch at gmail. Otherwise send tips to Ace.

posted by xgenghisx at
10:25 PM
|
Access Comments