« It's Official: Obama Moving Guantanamo Bay Detainees to Illinois
|
Main
|
Gore's Fumble Recovery: Ice Estimate Just "Ballpark" »
December 15, 2009
Enjoy the New "Solitary Voice" Format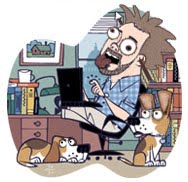 With the exception of PA, who either didn't check his emails or wants to pull a Patrick Appel and passive-aggressively give the game away (PA = PA? surely no coincidence!; there must be some conspiracy afoot), the new "solitary voice" format is working pretty well, I'd say.
Even if you don't usually read Sullivan posts, you'll probably at least want to read the beginning and end of this one if you want to know how it is I've been posting like a demon all day well before my usual farmer's-hours wake-up at the crack of 2:30 pm.
Regarding that photoshop above: Credit to me, ace. Thanks to ace (myself) for the hat-tip. Via ace, me again, as I found it on my solitary-voice blog. Since no one else here is responsible for anything that's posted here -- I get the hat-trick of credit. Original credit, hat-tip credit, via credit: Me myself and I, baby.
(Also, if I have to confess it, thanks to some "underblogging" to McGurk for stewing in my cerebral juices long enough to intuitively understand I wanted a photoshop that looks exactly like that. But I was responsible for the substantive content of the picture.)
Sockpuppet Me! For the day, let's just suspend the "don't sockpuppet ace" rule. Sockpuppet away. It's my blog, and I do intend for it to have a solitary voice, so it's better if not only are the posts by me, but half the comments too.
Then I can claim to have the real "most popular one-man blog on the internet."

posted by Ace at
01:33 PM
|
Access Comments