« Obama to donors: "thanks for the cash, now bugger off and let me eat my waffle, eh"
|
Main
|
California Talk Radio Hosts John and Ken Declare California Needs a Massive Enema (chad) »
December 05, 2009
Met Office in UK Declares Time Out on Global Warming Alarmism?
But: Government Itself Seeks to Halt Reexamination!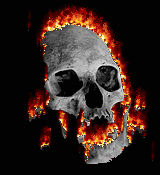 I'm giving this the flaming skull for other reasons. I'm not sure if Britain's Met Office is really saying they won't be supporting the global warmist agenda for three years, or if that's just the reporter's gloss on the story.
Even if that's just gloss -- they're going to spend three years doing a transparent reconstruction of the lost temperature records. All the shabby and amateurish statistical nonsense these half-wits did to get their preferred outcome will, presumably, now be reviewed and approved by real experts in this branch of mathematics.
It doesn't sound like a cover-up... at least not yet.
But check it out: Gordon Brown's government is attempting to stop the science.
That's pro-science, right? Stopping a scientific reconstruction of "lost" data and a reexamination of the evidence? Yes, I think so. That's what science is. Science = not science. QED.
The Met Office plans to re-examine 160 years of temperature data after admitting that public confidence in the science on man-made global warming has been shattered by leaked e-mails.

The new analysis of the data will take three years, meaning that the Met Office will not be able to state with absolute confidence the extent of the warming trend until the end of 2012.

The Met Office database is one of three main sources of temperature data analysis on which the UN's main climate change science body relies for its assessment that global warming is a serious danger to the world. This assessment is the basis for next week's climate change talks in Copenhagen aimed at cutting CO2 emissions.

The Government is attempting to stop the Met Office from carrying out the re-examination, arguing that it would be seized upon by climate change sceptics.
1, Of course it will, and 2, So what? This is science? Halting a scientific inquiry because it might undermine theories for which there is currently no existing evidence?
The Met is seeking temperature records from the world's weather stations, which they say they're "confident" they'll get. I'm not so sure.
The IPCC says it needs to consider the full implications of these leaks, and whether they cast doubt on "the science." I already know their conclusion, but it is something that at least they've been required to make that admission.
Gordon Brown's belief in the Cult of the Virgin Gaia is, I'm sure you're surprised to learn, only strengthened by this test of his faith.
That's what Goddess Gaia does -- she tests you with trials and tribulations to make certain that your faith is pure.
Mr Brown last night insisted that the science on climate change in settled, and accused those who question the consensus of being outdated.

He said: "With only days to go before Copenhagen we mustn't be distracted by the behind-the-times, anti-science, flat-earth climate sceptics. We know the science. We know what we must do."

Greg Clark, the Conservative shadow energy secretary, told the Daily Telegraph the emails were a cause for concern.

"This has clearly concerned a lot of people, including myself. You need to be able to rely on the scientific opinion. It is important that we should be able to have confidence in the research," he said.

Announcing a review of the case, Dr Rajendra Pachauri, chairman of the UN's Intergovernmental Panel on Climate Change (IPCC), said the matter could not be "brushed under the carpet".

Did any of you ever think that this would happen? It's like a fantasy. I often say of some Happy Ending Machine theories (like Obama's supposed ineligibility for the presidency) that Life doesn't work like that. Life never just like totally blows your mind and gives you every Christmas present you wanted.
Except... well, every once in a long, long time.
Abort Code: A programming expert interviewed on the BBC said this code is so rife with errors as to be amateurish, and no, we should not make trillion dollar bets on such shoddy programming.
A global warming cultist calls a skeptic an a-hole on live tv.
More: The WaPo Discovers ClimateGate, Scooping Most of the Rest of the Media in Mentioning it a Mere Two Weeks After the Story Broke. And longer vid of the a-bomb the climate "scientist" dropped on TV.
Uncensored version again:

posted by Ace at
03:59 PM
|
Access Comments