« Doinnnnggg! CNN: Obama Underwater, 48 Approve, 50% Disapprove
|
Main
|
Milftastic: Sue Lowden Leads Dingy Harry by 10 »
December 04, 2009
The state of ClimateGate today,

Dec 4 2009. [krak]

(A series of daily-ish roundups of the day's Climate news and commentary.)

This is by no means a comprehensive list. The stories come from a variety of sources, and I highly recommend exploring the linked sites for more breaking news.

Today's update is brought to you by the Paul Anka of the tree world: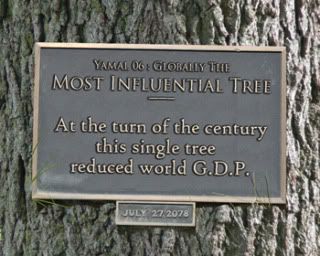 Also brought to you by the Moron eco-comment of the day (as judged by me, a moron):
I'd find this global warming a lot more convincing if it weren't snowing outside my window. During the first week of December. In Houston. For the first time since Tambura 1815, as far as anyone knows. - Zimriel
On to the day's news, after the break:

For CRU and Mann to produce a hockey stick, they needed to get rid of the Medieval Warm Period (MWP). In part, they achieved this by claiming the warming in Europe was localized, and was balanced out by cooler temperatures in other areas of the planet.
JoNova does an analysis that includes more than a single Yamal tree, and finds the MWP wasn't a local phenomena at all.
It's clear that the world was warmer during medieval times. Marked on the map are study after study (all peer-reviewed) from all around the world with results of temperatures from the medieval time compared to today. These use ice cores, stalagmites, sediments, and isotopes. They agree with 6,144 boreholes around the world which found that temperatures were about 0.5°C warmer world wide.
---
Mark Steyn: AGW proponents are advancing Punitive Liberalism. Instead of "Eureka!", Climate "science" is advanced with the exclamation "Oh F--k this!"
---
Rajendra Pachauri, the chair of (IPCC):

"The reality is that our lifestyles are unsustainable." Climate change is a symptom of our unsustainable lifestyle.
Yes, Indeed. I really should cut back on my cross-Atlantic trips between Cricket practice in Delhi and ritzy NY climate seminars. Oh wait. That wasn't me.
Be that as it may, he and the U.N. are finally bowing to pressure and pretending to be concerned about the CRU scandal:

"We will certainly go into the whole lot and then we will take a position on it," he said. "We certainly don't want to brush anything under the carpet."
---
Two Words: Climate Prostitutes. Could Gaia worship get any more pagan?
---
Sarah Palin weighs in, and asks President Obama to "Boycott Copenhagen."
---
Barbara Hollingsworth unveils the Rogue's gallery of ClimatGate, listing the top five "people of interest".
---
James Delingpole excoriates the UK MSM using the "Tiger Woods Index", and recently debated AGW papal authority George Monbiot.
---
Finally, in Canada the CBC's Rex Murphy unloads on the CRU conspirators...
"Climategate is evidence that the science has gone to bed with advocacy and both have had a very good time."
...and adds perspective to those who claim any malfeasance at East Anglia isn't that important.
"CRU isn't the universe of climate research, but it is the star."
Welcome, Krakatoa! [ace]: What happened here was 1, Krak was posting like gangbusters in the headlines, and 2, I was getting to the point where I could not keep up with the ClimateGate news, and to the extent I tried, I was turning this into an almost single-issue blog, which I didn't think was a good idea.
Since Krakatoa was doing such an awesome job with ClimateGate, I asked him to post whenever he liked, when he had enough for a recap, or a good story he wanted to post. Which relieves me of having to keep on all of this (and there is so so much), and let's me pick my shots with ClimateGate, and otherwise post on other matters.
Basically I wanted this blog solidly on top of ClimateGate, and I (and the other cobloggers) could not keep completely up on it while also hitting the economy, Afganistan, health care, etc. I thought Krakatoa would make for a good guest blogger here.
Other guys -- like ArthurK. and JackStraw-- have long, long been on top of climate related matters, and I could have asked them to do this too, but at the time I made the request, it was Krakatoa hitting the issue every hour in the headlines.
Musical Tribute [ace]: I've been listening to this song a lot. Wanted to link it. Here seems appropriate.
Content warning -- this is the uncensored version of "Fire Water Burn" ("The roof, the roof, the roof is on fire...")
If you want the censored version... um, why would you want that?