« Re-Posts: CRU Admits They Threw Away (??!) Old Data; Agrees to Release All Data... That They Haven't Yet Thrown Away
|
Main
|
CBO: Insurance Premiums Will Increase by 10% Under ObamaCare
Gallup: Near-Majority Opposes ObamaCare »
November 30, 2009
Obama's Ego Stroking Will Preempt "A Charlie Brown Christmas"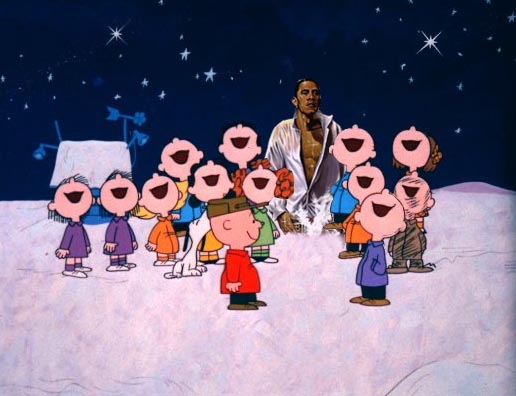 It was just a scraggly, stunted Obama until
the media kids went to work on it and made it beautiful.
Photoshop by Slublog (open tag busted by friendly neighborhood TB)

All networks, including FOX, will carry the President's primetime address from West Point tomorrow. He is expected to justify his inexcusable seven-week period of indecision on whether to win the war in Afghanistan. Do not expect him to mention his twice-weekly golf outings. I'm giving even odds he also fails to use the word "victory."
More importantly, President Narcissus will preempt "A Charlie Brown Christmas", which has my absolute favorite monologue in all of television (below the fold):
The peanuts special is getting bumped to next week.

posted by Gabriel Malor at
04:19 PM
|
Access Comments