« Happy Thanksgiving!
|
Main
|
HARRY.REAM.ME.TXT: The Leaked Emails of AoSHQ »
November 26, 2009
And Thanks for Belligerent, Brainless Trolls
The other day Dave in Texas referenced the Jefferson Quote Caper. If you've never read it, it's worth a read. It's maximum pwnage of a troll, the best pwning of a troll I've ever witnessed. (Well... maybe Dave's Antarctica Now pwnage competes with it.) UPDATE [DiT]: Here's Antarctica Now.
The basic backstory is that Dave, to yank a troll's chains, quoted Thomas Jefferson, to reply to the troll's claims about free speech. The Jefferson quote Dave provided was "Free speech is overrated."
The troll -- Jersey, he called himself -- objected that this wasn't a real quote, demonstrating some true genius is solving this particular mystery.
Dave, very politely, insisted it was, and endeavored to help the troll find it online and in books.
It was, as Dave said about the pie chart email linked yesterday, the politeness and helpfulness on Dave's part that made it funny. No matter how angry the troll got about this "quote," Dave just kept his cool and tried to help him track it down, to prove to himself it was real.
Now, what happened was this: We were all kind of laughing about this, trying to keep it secret, trying to not let the troll know that Dave was just jerking his chains with what was obviously a joke. Commenters joined in and began creating their own "quotes" by famous people, even more ridiculous than Dave's.
I thought the joke was blown at that point. Now, surely, the troll "Jersey" must understand it's all a goof.
But he didn't. He kept demanding Dave provide citations for his Jefferson quote -- "Free speech is overrated" -- which Dave very politely and sweetly continued to do.
So: In this post, I collected up the beginnings of this exchange, because I thought it was so funny. And also, because I believed at this point, the joke was over, and obviously Jersey must now understand that Dave was just jerking him around.
That's what I thought.
But then Jersey popped into this thread, which is all about goofing on him for not getting it was a goof in the first place, at post 161, and continues hounding Dave for proof of the quote, in which Jefferson uses the oddly-modern word "overrated."
Dave just keeps sweetly trying to help him track it down and resolve this dispute to everyone's satisfaction.
So I posted again: collecting up the new arguments about the quote. Including Dave's assertion that the quote comes from the famous book of quotations, Stuff Jefferson Said, 3rd Edition.
You still can't find it Jersey?

Wow. I would have thought it would be pretty easy. I don't have an online reference, but if I get some time later today I'll see what I can find. I actually copied it out of one of my college history books, Stuff Jefferson Said, 3rd. edition. You might be able to find it on Amazon. Here, try "www.amazon.com" and search on "Stuff Jefferson Said".

I'll bet there's a newer version in publication now, so leave out "3rd edition."
And this time, I step in to "resolve" the issue. I claim I have myself consulted my own dog-eared copy of Stuff Jefferson Said (3rd Edition, of course, the most complete version), and that I have found the real Jefferson quote, which Dave must have garbled a bit:
"Of all the Necessities of a Prudent & Effective Government, the Virtue & Wisdom of the People is paramount. Free Speech is Nice & Everything, but really, it's No Big Shakes in the Greater Scheme of Things." -- Thomas Jefferson
Surely, this time, "Jersey" now understood that everyone was just goofing on him. "Overrated"? And now "No Great Shakes"? The joke was over; now I had made it obvious we were making stuff up.
But no, the joke is far from over. Jersey shows up in the second thread goofing on him for failing to get he was being goofed on -- to continue badgering Dave, this time for getting the quote so wrong. I offered him an even more absurd quote, and Jersey just didn't pick up on it -- the only thing that mattered to him now was that I had myself "proven" that Dave got the quote wrong, and that Jersey, therefore, was "right."
Dave attempts to apologize for leading Jersey astray:
I looked at my copy of Stuff Jefferson Said, and you're right, it wasn't a campaign speech in Weehawken. So I totally messed that up.

I was working from memory.
Jersey refuses his apology and mocks him further. I mean, Dave really kind of took liberties with the "real" quote, didn't he?
Sooooooooo, this is the actual quote.

"Of all the Necessities of a Prudent & Effective Government, the Virtue & Wisdom of the People is paramount. Free Speech is Nice & Everything, but really, it's No Big Shakes in the Greater Scheme of Things." -- Thomas Jefferson

Opposed to: "Free speech is overrated, but not overtly so".

And only after three days and over 100 postings, blasting me for just being able to understand Dave or where to find hs "quote."

Geeeez, Dave, wasn't your translation just a tad on the loose side? I mean, why not just edit and change it to this:

"Speech really, big shakes of things."
Dave apologizes again, and seeks forgiveness:
C'mon Jersey, you gotta admit, "overrated" and "it's No Big Shakes in the Greater Scheme of Things " are pretty close.

Cut me a little slack dude, I haven't read that in like, 25 years.
I apologized myself, and tried to calm Jersey down about Dave's "mistake:"
Jersey,

Hey, it happens. I appreciate your frustration. But sometimes it takes time to track down an exact quote.

I hope you're satisfied now, and this argument can end. Hopefully with no bad feelings on either side.

Like Thomas Jefferson said, "That's why God gave pencils erasers!"
By this point the entire site is now manufacturing quotes left and right and attributing them to sources of dubious authority.
And Jersey would still not comprehend that out of 100 people, 99 were in on a joke and he wasn't -- at least not for several hours later, when people just told him that these ridiculous quotes from Abraham Lincoln and James Madison and Aaron Burr might sort of all be just completely made up.
At that point he of course claimed he knew it all along. And he was, um, pwning us or something.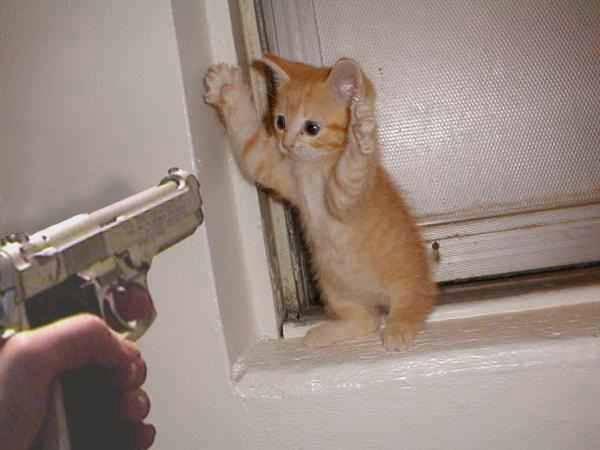 posted by Ace at
05:11 PM
|
Access Comments