« Couple Crashes White House State Dinner. [dri]
|
Main
|
Happy Thanksgiving! »
November 26, 2009
Global Warming Scandal spreads to Middle Earth? [krakatoa]
UPDATE5[PA] Drudge picks up the Aussie MP resignations story
UPDATE4[PA] We have curious allies: Alex Jones's PrisonPlanet runs a piece bashing Al Gore for photoshop deceptions and declaring global warming a crock.
UPDATE3[PA] Aussie politics in turmoil over Liberal party resignations over their version of Cap/Trade. Some of the liberals broke ranks and resigned over it(i.e. they thought it was a crap bill) PART 1(the resignations), PART 2(Turnbull doubles down on stupid).
One can't help but wonder if this wave of protest resignations wasn't influenced in some small way by the CRU revelations even if that wasn't explicitly stated. Smart politicians thinking some years down the road, might see being on the wrong side of this as a career killer, and being on the right side as a way to catapult careers to the top. Imprudent politicians, like Turnbull, double down on stupid risking it all on one throw of a die that might not be loaded quite they way they though thought it was loaded. Time will tell.
UPDATE2[PA] Some significant "fishiness" has been found in the code.
UPDATE1. Explanation released. Adjustments were made to compensate for changes in the physical locations of sensing stations. Strangely (no, not really), they only agreed to release one example of the specific methodology & data used to determine the direction & magnitude of the changes. I'm seeing a pattern here, and it's not so much a pattern of climate as of obsfucation.
Follow the above link for a full treatment on the update. Investigate Magazine does a nice job explaining why the single example given is questionable, albeit NIWA's best hope of making the issue go away. I imagine the vast majority of other changes are of even more dubious quality.
ALSO, if you are looking for a quick, easy-to-read summarization of the CRU scandal to pass along to friends & family with short attention spans, Lon @ Commission Impossible has a nice primer: Men Behaving Badly.
-----
On the heels of the unfolding CRU scandal, Investigate Magazine reports that a similar one is unfolding in New Zealand.
It is a familiar story.
New Zealand's Climate advisory panel - The National Institute of Water & Atmospheric Research (NIWA) - produced a graph showing a dramatic 20th century warming trend. The author of the graph, one Dr. Salinger, created the his version of the infamous "Hockey Stick" in the 80's while he worked at none other than the CRU at University of East Anglia.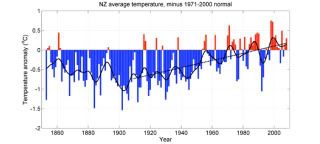 To produce the graph, he used surface station data collected since the 1850's. The graph continued to be updated through 2008. For many years, he ignored requests to release the data set he used to populate his plot points.
Recently the New Zealand Climate Science Coalition took matters into their own hands, collected the surface station data, and produced their own graph. The results they reported bear little resemblance to Dr. Salinger's: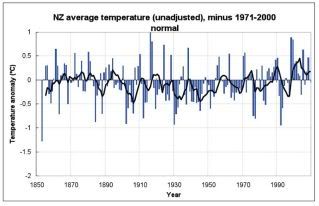 While Salinger's graph demonstrated a warming of of .92 degrees celsius per century, the raw data indicated otherwise:
Straight away you can see there's no slope—either up or down. The temperatures are remarkably constant way back to the 1850s. Of course, the temperature still varies from year to year, but the trend stays level—statistically insignificant at 0.06°C per century since 1850. Putting these two graphs side by side, you can see huge differences. What is going on?
This group was able to get Salinger's data set from one of his colleagues, and found drastic changes made to the raw data to produce an exaggerated temperature increase by manipulating early data down (in one case by as much as a whopping 1.3 degrees celsius ) and manipulating successive measurements upwards.
About half the adjustments actually created a warming trend where none existed; the other half greatly exaggerated existing warming. All the adjustments increased or even created a warming trend, with only one (Dunedin) going the other way and slightly reducing the original trend.

The shocking truth is that the oldest readings have been cranked way down and later readings artificially lifted to give a false impression of warming, as documented below. There is nothing in the station histories to warrant these adjustments and to date Dr Salinger and NIWA have not revealed why they did this.
Demands for an explanation by Investigate Magazine resulted in another familiar dance:
NIWA's David Wratt has told Investigate magazine this afternoon his organization denies faking temperature data and he claims NIWA has a good explanation for adjusting the temperature data upward. Wratt says NIWA is drafting a media response for release later this afternoon which will explain why they altered the raw data.

"Do you agree it might look bad in the wake of the CRU scandal?"

"No, no," replied Wratt before hitting out at the Climate Science Coalition and accusing them of "misleading" people about the temperature adjustments.
BTW, the media response they were working on did not, in fact, get released today. That's ok. I've got plenty of popcorn left.
H/T WUWT.
All of this, of course, means the Zombie threat level is reduced to a medium taupe, as a non-warming planet limits the spread of brain-eating amoeba.

Someone Asked for Popcorn [ace]:

posted by xgenghisx at
10:32 AM
|
Access Comments