« Stargate Universe: Life Discussion Thread
|
Main
|
Hacked Emails Reveal: "Scientists" Faking Data to Establish Global Warming They Know Isn't There
And Conspiring to Delete Emails They're Supposed to Retain for FOIA Purposes »
November 20, 2009
Overnight Open Thread - TGIF Edition (Mætenloch)
Welcome to Friday all. Just a few more days until we enter the holiday zone. Oh and don't forget that tomorrow is International Talk Like a Hobo Day
Why You Should Never Talk to the Police
Here's a fascinating talk by a law professor and a police detective where they explain why you should never talk to the police. Even if you're innocent and/or completely uninvolved. And they make a very good case against it. Fair warning - it is a longish legal lecture but don't let that scare you - it really is interesting and worth your time.
Now I had always heard this advice and understood the general reasoning behind it, but here the speakers actually give specific examples of how an innocent person could easily incriminate themselves by accident when questioned by a skilled detective. And yet if everyone followed their advice, many if not most crimes would go unsolved and we'd be a worse, more lawless society for it. So it's a trade off between the personal and common good. The best outcome is that you follow this advice and everyone else doesn't. And yeah that's kind of unsatisfying but at least now you're a more knowledgeable moron when it comes to this issue.
AoSHQ Lifestyle Tip: Use a Water Filter To Upgrade Val-u-rite to Quality Vodka
Even the NYT is getting on the cheap stuff bandwagon.
Few Killers Are Executed - A Long Time Problem?
Here's an article from the 1909 Los Angeles Times showing that only 1 out of every 20 murderers was actually executed. So much for the good ole days.
Apparently Ronald McDonald Has a Sexy Daughter
Not bad for a ginger. And as a youtube commenter helpfully points out, apparently there's some cameltoe at 0:16.
Man Awakened in Ditch with Moonshine and a Rifle
Okay now without looking, name the state. And for extra points give the name the moron uses on the ONT.
US Postal Service Considers Stopping Saturday Mail
Getting mail on Saturday is nice and all but I could live without it.
Tonight's post brought to you by the Bush family Christmas photo, 1989: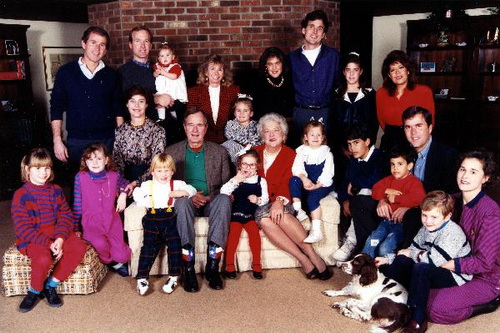 Notice: Posted by permission of AceCorp LLC. Please e-mail overnight open thread tips to maetenloch at gmail. Otherwise send tips to Ace.

posted by xgenghisx at
10:15 PM
|
Access Comments