« Syria: ummm...that shit that doesn't exist ain't our shit.
|
Main
|
Noted Gay-Porn Dick-Model and Shiftless Layabout Claims that The Tonight Show Has Impugned His Sterling Reputation »
November 05, 2009
CBO Scores Republican Plan: Costs a Mere $61 Billion, Cuts $68 Billion from Deficit, Reduces Premiums Up to Ten Percent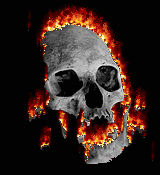 At last, a plan that actually does precisely what it is sold as doing: Making health care insurance more affordable to the middle class and reducing the deficit, rather than making it more expensive and blowing up the deficit.

Flaming skull worthy? I think it damnwell is.
The CBO put the price tag for the GOP plan at $61 billion, a fraction of the $1.05 trillion cost estimate it gave to the House bill that lawmakers are set to vote on this weekend. And the CBO found that the Republican provision to reform medical malpractice liability would result in $41 billion in savings and increase revenues by $13 billion by reducing the cost of private health insurance plans. …

According to CBO, the GOP bill would indeed lower costs, particularly for small businesses that have trouble finding affordable health care policies for their employees. The report found rates would drop by seven to 10 percent for this group, and by five to eight percent for the individual market, where it can also be difficult to find affordable policies.

The GOP plan would have the smallest economic impact on the large group market that serves people working for large businesses that have access to the cheapest coverage. Those premiums would decline by zero to 3 percent, the CBO said.
That small reduction still accrues to those already with the cheapest insurance, of course, and those who already have it through their employers.
And the Democratic plan? Premiums will go up, taxes will go up, we all know that. He says we're trying to make them go up less than they would, but they're still going up.
He asks you to accept that there is no competing plan on the table that makes them actually go down.
But there is.

posted by Ace at
12:09 PM
|
Access Comments