« Snark of the Night
|
Main
|
Chicago Tribune: "V" Aims at Obamamania »
November 04, 2009
NY 23, Some Final Thoughts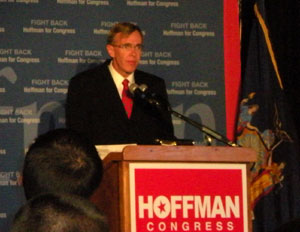 Just got back from my sojourn up to Saranac Lake and figured I'd share a few thoughts. I haven't had a chance to read any coverage, so I'm not sure how much of this has already been covered.
First, the results have a little something for everyone.
Obviously, the Democrats have a seat and a high profile win in an otherwise awful night. They also get the "Republicans are cracking up" talking point.
Mainline Republicans and the "we have to live with RINOs" group have their, "if we split, we lose and Democrats win" talking point. Note that these groups aren't really the same but I'm throwing them together for the purpose of this discussion.
And finally "pure conservatives" (for want of a better term) can point out that a guy who was a less than ideal campaigner went from nowhere, to knocking out the anointed Republican candidate, to coming damn close to pulling off the win in a short few weeks.
So, who is right? In a sense they all are. This race was so unique it's hard to draw any definitive conclusions, so pretty much anyone can read into it what they want. Ultimately, the conclusion one draws from it says more about the person drawing it than the result itself (and that applies to me as well).
Personally, I think it was a net gain for Republicans and conservatives. I'm sick of party hacks picking their own in these special elections and even anointing the chosen ones in open primaries. I was pissed about the selection of Tedisco in NY-20 this spring and think it's outrageous the support Crist is getting from the NRSC.
Insurgent conservatives who want to work within the Republican Party should have the same opportunity as anyone else. Will that lead to the occasional niche candidate who can't win in the general? Probably. But these party anointed hacks don't exactly have a sterling track record either. Elections by definition are uncertain things. It's life, deal with it.
Hoffman showed that under difficult and unique situations a conservative message can garner significant support. Assuming he runs again next year and does so with a reasonably unified party, in what should be a good Republican cycle, there's no reason to believe he won't once again be a strong candidate.
As to why Hoffman lost last night, there will be a lot of theories a number of which I heard last night.
Part of it was the fracture of the Republican Party. I don't think there's much doubt that Dede supporters bailed on Hoffman. I find this a reasonable theory given the personal commitment I saw from many of the Hoffman supporters. There's no reason to think a longtime Assembly woman didn't have a fair number of committed supporters who either stuck with her or voted for Owens out of spite or liberal sympathy. In a race where Hoffman lost by about 5,000 votes and Scozzafava still pulled 7,300 votes, that can't be discounted.
Another factor is the local vs. national aspect of the race. Hoffman ran on a theme of conservative values and de-emphasized local issues. As Tip O'Neil famously said, all politics is local. Not only were some voters undoubtedly concerned about Hoffman's grip or interest on local issues but there was likely some blowback by voters who didn't want all these outside figures pushing Hoffman on them. It's very hard to nationalize House races. It worked in '94 but that's the exception. I would think this is an area where Hoffman will want to retool his message should he run again.
There will also have to be some study done on turnout, particularly among independents (and how they broke).
Again in a race this close and complex, a lot of little factors can add up.
The fact that there are so many competing narratives and that everyone would have had a different one had the vote turned out differently, makes it unlikely that any one will settle in. Again, people will read into what they want.
Now, NJ and VA? You can spin those until you are dizzy but the facts are plain to see and they bode well for Republicans.

posted by DrewM. at
02:35 PM
|
Access Comments