« Jay Cost Explains Why Liberal Media Polls Keep Getting 55+% Support for the "Public Option:" The Feel-Good Phrasing of the Question
|
Main
|
Dick Cheney Goes Off On Obama »
October 22, 2009
Scozzafava: Withdraw Now
You're going to see a lot of this today. The Republican Party needs to push this liberal goof out of the way and support Doug Hoffman as the Republican candidate.
Agreed. Scozzafava needs to step aside, and I urge her backers to throw their support behind Hoffman.
Teh Fred, lists her absurd positions that are entirely out of sync with conservative values and normal Republican policy positions. For crying out loud, a huge chunk of her most recent donations came from abortion rights groups, labor unions and the NEA .
Card check? WTF? Oh wait, her husband, Ron McDougall, is president of the Jefferson, Lewis and St. Lawrence Central Trades and Labor Council and a member of the UAW.
The same clown who called the cops when his wife the candidate refused to answer questions from felt "threatened" by Weekly Standard reporter John McCormack.
In a ridiculous press conf yesterday outside Hoffman's HQ (anybody see that?), Scozzafava declared that Hoffman was unwilling to debate her, which is an outright lie. Hoffman offered in August and even offered to pick up the costs. But he wasn't a threat then and she refused. Now he's gaining momentum and she's panicky.
Good.
Geraghty also offers an unconfirmed tip that Hoffman will get Sarah Palin's endorsement. Sounds right to me.
As ace and others have pointed out, NY-23 isn't exactly super-liberal territory.
She is a horrible candidate for the Republican Party in a district we don't have to lose. This fight isn't just about winning NY-23, it's also an opportunity to send a message to the RNCC about the kind of candidates they're pushing. If you haven't already donated to Hoffman, you can here.
ScozzafavaFAIL: this thing got crashed by everybody yesterday.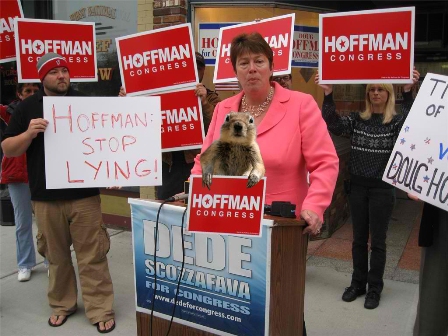 Also: link to Palin's Facebook page, just in case.

also thanks ace, DrewM and the morons for the links.
also also thanks to Ian for the awesome pshop

posted by Dave In Texas at
11:41 AM
|
Access Comments