« Why Defend Rush?
|
Main
|
Overnight Open Thread (Mætenloch) »
October 18, 2009
Sunday Night Open Thread
For general discussion, including the dog of a football game on NBC (to me Dodgers @ Phillies on TBS is a better bet).
Just a reminder, tonight's football game features a misogynist as a studio host. Since he's a liberal it's okay, he's not divisive and thus is a member in good standing of the NFL family.
Somewhat related...The Washington Redskins suck. Clearly they need a new owner, coach and quarterback. Fortunately they can find all three in one man (though no mere mortal He).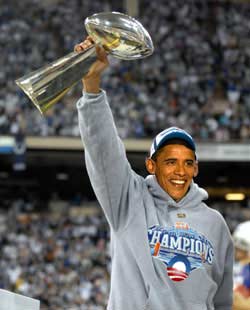 As I Tweated earlier...
To sum up my thoughts on the NFL...The NY Rangers are 7-1-0. Lets Go RANGERS! And oh yeah...Potvin SUCKS!
And as I emailed to tmi3rd...
The Rangers are 7-1. Obviously, this season is not going to end well.
I'm not what one might call an optimist.

posted by DrewM. at
07:55 PM
|
Access Comments