« Alfred E. Obama: What, Me ACORN?
|
Main
|
AP on Obama's Claim a Tax Isn't Really a Tax: You Lie »
September 21, 2009
Obama Administration Threatens Health Insurance Company For Deviating From Approved Thoughts
Dissent is the highest form of shut your mouth or else.
The Humana mailer focused squarely on the Medicare Advantage program.

"While these programs need to be made more efficient, if the proposed funding cut levels become law, millions of seniors and disabled individuals could lose many of the important benefits and services that make Medicare Advantage health plans so valuable," it said.

It urged seniors to sign up with Humana for regular updates on the health care legislation, and encouraged them to contact their lawmakers in Washington.

In a warning letter to Humana, HHS said the government is concerned that the mailer "is misleading and confusing" partly because the company's lobbying campaign could be mistaken for an official communication about Medicare benefits.

HHS ordered the company to immediately halt any such mailings, and remove any related materials from its Web site. In the letter, the government also said it may take other action against Humana.
Humana received a cease and desist letter from Centers for Medicare and Medicaid Services (CMS), which administers both programs.
CMS is concerned that, among other things, this information is misleading and confusing to beneficiaries, represents information to beneficiaries as official communications about the Medicare Advantage program, and is potentially contrary to federal regulations and guidance for the MA and Part D programs and other federal law, including HIPAA. As we continue our research into this issue, we are instructing you to end immediately all such mailings to beneficiaries and to remove any related materials directed to Medicare enrollees from your website.
As is pointed out at the EconLog link, CMS says the wording of the materials is only "potentially contrary" to regulations yet they are ordering it removed before any finding it is actually against any rules.
More of that full and open debate we've heard so much about.
h/t to Jonah Goldberg at The Corner for the EconLog link.
BTW...Sen. Bill Nelson (D-Florida) wants to preserve Medicare Advantage saying cutting money from the plan, "would be intolerable to ask the senior citizens who have (Medicare Advantage) to give up substantial health benefits that they're enjoying."
How does that square with this oft repeated promise from Obama?
"First of all, if you've got health insurance, you like your doctors, you like your plan, you can keep your doctor, you can keep your plan. Nobody is talking about taking that away from you."
Below the fold, all you need to know about Obama.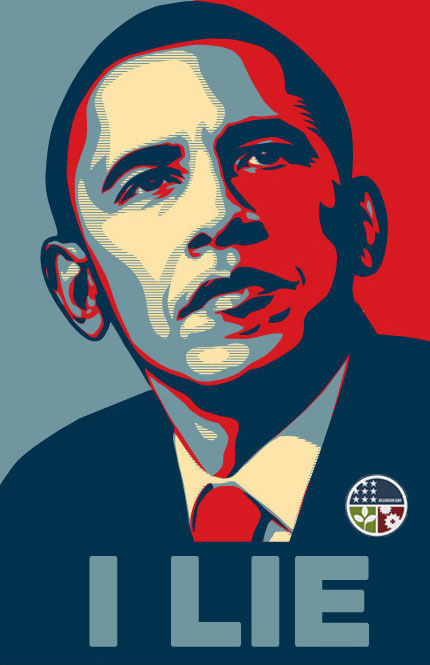 posted by DrewM. at
06:10 PM
|
Access Comments