« Has Jon Stewart Embarrassed the Media into Questioning Obama?
|
Main
|
Obama Administration Threatens Health Insurance Company For Deviating From Approved Thoughts »
September 21, 2009
Alfred E. Obama: What, Me ACORN?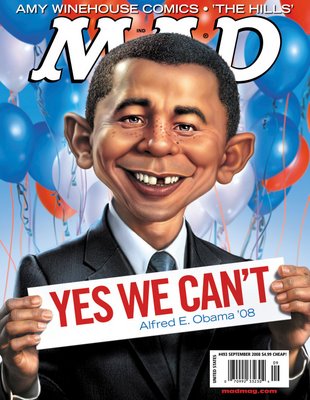 From Mad Magazine, of course
The most open, transparent, accountable, and honest president in the history of history says he's not really sure who this ACORN is you speak of.
A quick refresher.
Mr. Obama took great pains to act as if he barely knew about Acorn. In fact, his association goes back almost 20 years. In 1991, he took time off from his law firm to run a voter-registration drive for Project Vote, an Acorn partner that was soon fully absorbed under the Acorn umbrella....

Mr. Obama's success made him a hot commodity on the community organizing circuit. He became a top trainer at Acorn's Chicago conferences. In 1995, he became Acorn's attorney, participating in a landmark case to force the state of Illinois to implement the federal Motor Voter Law. That law's loose voter registration requirements would later be exploited by Acorn employees in an effort to flood voter rolls with fake names.

In 1996, Mr. Obama filled out a questionnaire listing key supporters for his campaign for the Illinois Senate. He put Acorn first (it was not an alphabetical list). In the U.S. Senate, Mr. Obama became the leading critic of Voter ID laws, whose overturn was a top Acorn priority. In 2007, in a speech to Acorn's leaders prior to their political arm's endorsement of his presidential campaign, Mr. Obama was effusive: "I've been fighting alongside of Acorn on issues you care about my entire career. Even before I was an elected official, when I ran Project Vote in Illinois, Acorn was smack dab in the middle of it, and we appreciate your work."

But the Obama campaign didn't appear eager to discuss the candidate's ties to Acorn. Its press operation vividly denied Mr. Obama had been an Acorn trainer until the New York Times uncovered records demonstrating that he had been. The Obama campaign also gave Citizens Consulting, Inc., an Acorn subsidiary, $832,000 for get-out-the-vote activities in key primary states. In filings with the Federal Election Commission, the Obama campaign listed the payments as "staging, sound, lighting," only correcting the filings after the Pittsburgh Tribune-Review revealed their true nature.

Given his longstanding ties with Acorn, President Obama's protestations of ignorance or disinterest in the group's latest scandal seem preposterous. Here's hoping White House reporters will press the president to clarify just how much he really knows about Acorn and when he knew it.
Just so you know, Obama is "distancing" himself from ACORN, but it's not true, as I said for the purposes of a joke, that he's claiming he doesn't know what it is. He's just saying he hasn't been "following the story closely."
And basically acting as if he doesn't know what ACORN is.
Thanks to DanF.

posted by Ace at
05:08 PM
|
Access Comments