« College Football Thread
|
Main
|
Heh: Joe Wilson Outrages and then Out-Raises the Left »
September 12, 2009
Tea Party in DC UPDATED 2x
Kind of a big f'n deal in DC today. All over the news. Anyone see verifiable reports of crowd size? The news web sites are all avoiding that, or just saying "thousands".
Keep the pics coming, thanks!
Also, even though you already got it, big open thread and stuff on tea party Saturday.
Check out the live webcam shot from 14th and E (via spypeach in the football thread).
Anybody there today with a camera? Send me your pics and thoughts, I'll post it up over the weekend. Gooberintexas -at- gmail -dot- youknow.
ALSO:
From the Freedom Works linky above, the tea party will be aired live on CSPAN. From the site: Update: The March on Washington will be aired LIVE on CSPAN from 1pm - 4pm (EST)! To view online, please click here. Sorry DiT. Yea College Football!!11ty!! Go 'SC woot!!!

Posted by: Cyn at September 12, 2009 11:06 AM (cxzu3)

Thanks Cyn.
UPDATE: Photos from GeoffA.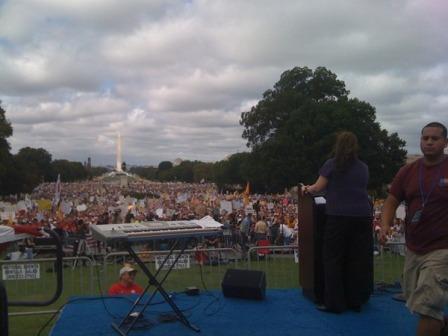 UPDATE 2x: Am seeing reports of huge crowd sizes,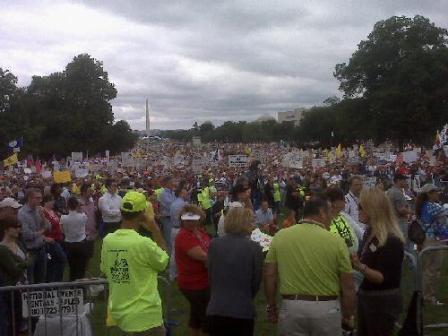 more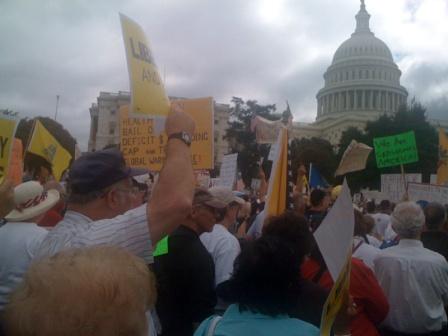 CNN still experimenting with tea party protesters.

posted by Dave In Texas at
11:03 AM
|
Access Comments