« Old Obama: The American People Elected Me to Pass This Popular Legislation They Desperately Want
New Obama: The American People Elected Me to Have the Guts to Pass This Unpopular Legislation They Don't Want
|
Main
|
Open Blog »
September 02, 2009
Obama to Toss Public Option Under the Bus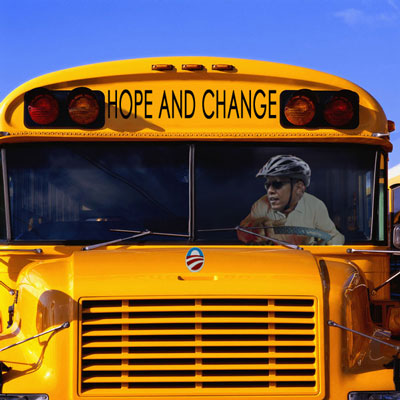 A naturally gifted athlete -- look at the grace and speed of this climbdown.
Obama is considering detailing his health-care demands in a major speech as soon as next week...
Another major speech. Whoopie.
... And although House leaders have said their members will demand the inclusion of a public insurance option, Obama has no plans to insist on it himself, the officials said.
Voting present. This allows the left to pass the public option out of the House, and the Senate to not include it, and then for it to be added by reconciliation or in conference.
...

On health care, Obama's willingness to forgo the public option is sure to anger his party's liberal base. But some administration officials welcome a showdown with liberal lawmakers if they argue they would rather have no health care law than an incremental one. The confrontation would allow Obama to show he is willing to stare down his own party to get things done.

"We have been saying all along that the most important part of this debate is not the public option, but rather ensuring choice and competition," an aide said. "There are lots of different ways to get there."
Yes, including by creating a public option and giving it a different name. A tactic favored by some Senate Democrats.
...

"His goal is to create the best possible situation for consumers, create competition and choice," Axelrod said. "We want to bring a measure of security to people who have health insurance today. >b>We want to help those who don't have coverage today, because they can't afford it, get insurance they can afford. And we want to do it in a way that reduces the overall cost of the system as a whole."
Those goals are plainly incompatible -- plainly, that is, to anyone who doesn't assume Obama has magical powers over time and space. Alas, many in the White House do seem to believe Obama has such powers.
I've said this before but what the hell: When people say they want "health care reform," they all mean the same thing. They all want better service than they're receiving now and they want to pay less money for it. In other words, they want the government to subsidize them. Which means they want some other taxpayer partly paying their expenses.
The problem here is that the middle class expects the rich to subsidize them -- which the rich really can't do too much, as there are so few "rich" and so many in the middle class. The poor, meanwhile, expect everyone else -- including the middle class -- to subsidize them.
Now one doesn't have to be a genius like Obama to see the problem here. If the middle class winds up subsidizing the poor, as they must under Obama's plan, either through higher taxes or rationed care, then the middle class is not, in fact, getting more for less, but rather getting less for more.
There is simply no way around this problem. This is why enormous social-spending programs are met with such resistance. If we were only talking about taxing an unpopular, tiny minority like "the rich," we'd already have all these measures on the books.
But we're not, of course. The rich are rich, but the rich are few. You can't pay for big programs only by taxing the rich.
So Obama's fundamental problem is that he's selling health care "reform" as some kind of advantage to the middle class. But it's not an advantage to the middle class at all; it's an advantage to the poorest Americans, a nice thing in and of itself, but it's coming directly from the wallets of the middle class.
The middle class which wants to pay less for more, not more for less.
And Obama particularly wants to go after middle class seniors on Medicare, slashing their coverage to provide more of it to the younger and poorer.
There is simply no finessing this. Obama can talk all he likes about increasing "efficiency" but no one believes that you can come up with hundreds of billions of dollars in mere efficiency gains, especially not in such a regulation-bound industry like health care.

The White House does seem to be willing to settle with a lot less than that, though:
But health care remains front-and-center in Obama's fall strategy. "I understand the governing wisdom here in town as to where this is right now," Axelrod said. "I feel good about where it is right now. I understand that there's been a lot of controversy. I understand that there's been a lot of politics. But the truth is, we're a lot closer to achieving something than many thought possible. People look to the president for leadership on this and other issues. He feels passionately about this, and you can look for him to provide that leadership."
Maybe I'm reading too much into that vague word, but note that Axelrod is deliberately obscure about what it is he thinks he's so close to achieving.
"Something," apparently. He's about to win on something.
What?
Something. Something with the words "Lord God King Obama Health Care Reform Act of 2009" in the title box.
Something. The kissing cousin of anything at all.

posted by Ace at
01:20 PM
|
Access Comments