« A Chicago Machine Poltician Became President and Only Now Are We Hearing About Mobsters
|
Main
|
Overnight Open Thread – Happy Days Are Here Again! - (genghis) »
August 05, 2009
Creeping Fishism Thread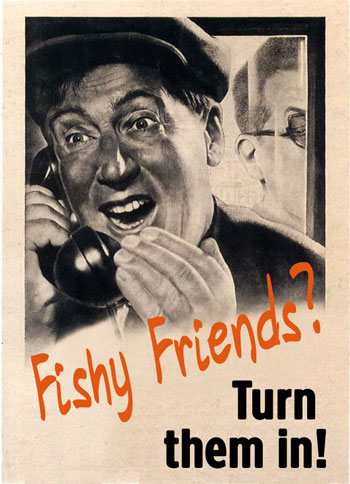 Poster by Reichs Morale & Hygiene Officer Kapitan Slublug
Cuffy Meigs has already fired off one pranky missive to flag@whitehouse.gov, the government's new informant/narc headquarters.
If you have a funny one, print it here.
Here are some Traitors spreading "fishy" information about the Trojan Horse of the public option, by the way. It is your patriotic duty to report these Malcontents and Subversives to your friendly government Vigilance Committee.
Swastikas: In this video, Reichswhore Nancy Pelosi claims town hall protesters are "carrying swastikas."
She is an immensely stupid woman. Not only is her claim that people are "carrying swastika" standards into these town meetings absurd on its face, but her implication is even more absurd: Bear in mind she thinks the proof these protesters are hired by astroturf firms is that they're carrying swastikas.
Right. When you hire a bunch of people to pose as ordinary citizens at town halls, of course you give them giant swastikas to carry in on their shoulders. So they'll blend in.

posted by Ace at
08:35 PM
|
Access Comments