« Obama's Birthday Cake Demonstrates His Signature Modesty, Restraint
|
Main
|
Cap and Trade off the Agenda, Now, Too? »
August 05, 2009
Sen. Cornyn Rips Obama for Fishy Fascism
Okay, it's not quite fascism, but it goes so well with fishy.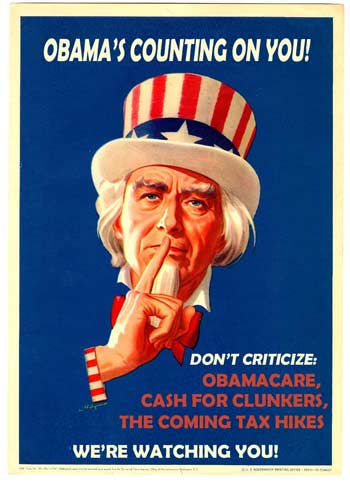 "I am not aware of any precedent for a president asking American citizens to report their fellow citizens to the White House for pure political speech that is deemed 'fishy' or otherwise inimical to the White House?s political interests," John Cornyn of Texas wrote US President Barack Obama.

"As Congress debates health care reform and other critical policy matters, citizen engagement must not be chilled by fear of government monitoring the exercise of free speech rights," he wrote.

"I can only imagine the level of justifiable outrage had your predecessor asked Americans to forward emails critical of his policies to the White House," Cornyn wrote, referring to former president George W. Bush.

"I suspect that you would have been leading the charge in condemning such a program -- and I would have been at your side denouncing such heavy-handed government action," he wrote.
Cuffy Meigs fires off an email to the Secret Fish Police, using an exit line used by a commenter (Rob Crawford) here: "Is this where I report them?"
Graphic by Slublog.
And a Neologism is Born: redrock writes:
OUT: Fascism
IN: Fishism

posted by Ace at
04:07 PM
|
Access Comments