« Schism...Top Iranian Cleric Group Breaks With Government
|
Main
|
Let Me Clarify My Statements »
July 05, 2009
July 4th Tea Party Roundup
Thanks for all the pics folks. Here's that one again from the Pittsburgh get together, via Josh L. who estimated about 1500 there yesterday morning.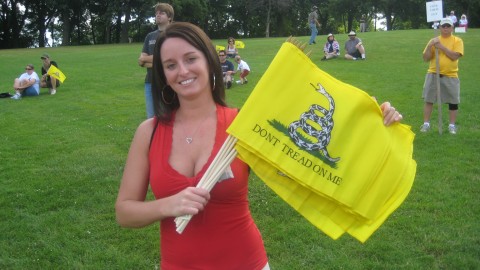 as one commenter put it, "...and if it freedom won't ring, at least let it motorboat!"
Indeed.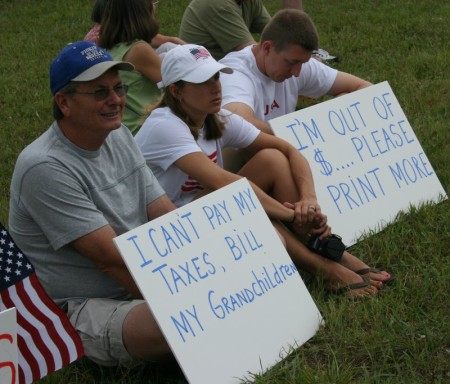 Fayetteville AR, via Matt D.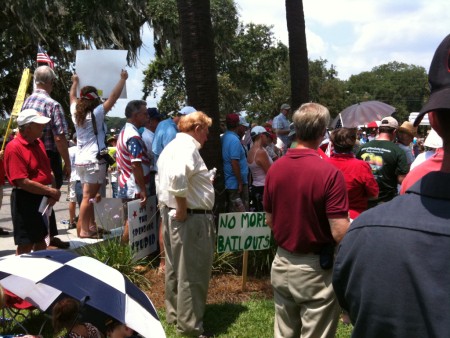 Beaufort SC, William J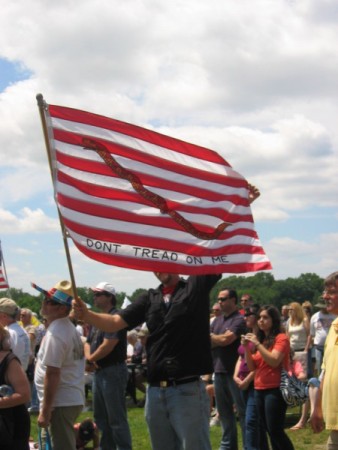 Jackson NJ, Wynalek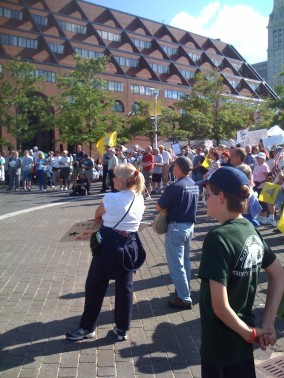 Boston MA, Andy
Video from Graham T at Port St. Lucie, FL
Reader Diana S was in San Antonio yesterday, where it hit 106. So was Joe the Plumber.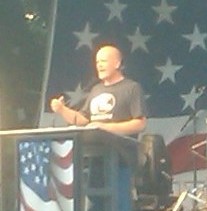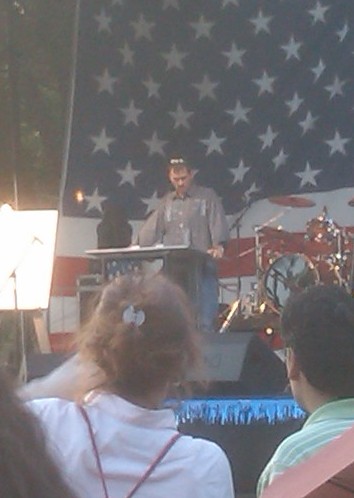 As was Marcus Luttrell.

She also sent this: "Battery running low! Marcus Luttrell was amazing. Told us to be part of the solution by speaking up not just complaining. He said his twin brother is still a SEAL and still fighting for us. He said not to worry about the war, they will win it for us, but they need to know we are fighting for America here at home. I cried".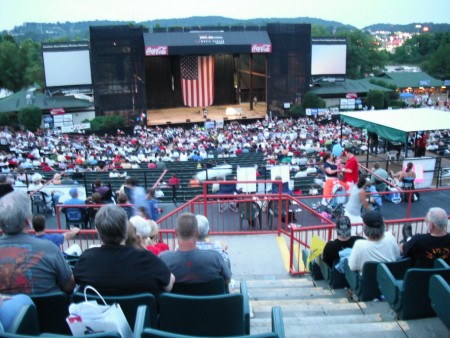 via Keith C, Birmingham AL Tea Party, who also sent this:
"My wife and son just got back from the B'ham Al Tea Party at The Verizon Music Center...Many Veterans sat in front of the stage, and there were more than a smattering all around. Some local politicians gave brief speeches. The main program started at 7:00 with prayers and The National Anthem...Jokes were made several times about how the media would describe the small crowd of kooks. A clicker count at the gate estimated that there were roughly 3000 people attending."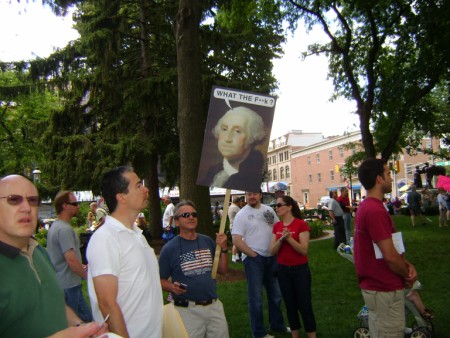 From Michela M, at the Morristown NJ Tea Party, who captured a pretty good sentiment here.
A close up...
HAHAHAHAHAHA! That's awesome.
Some more video,
That was from Thomas C, out there sweatin it out in Gilbert AZ.
From Beltway Conservative, at the Manassas (or Bull Run) VA Tea Party
"This is what went down at the Tea Party near Manasses Battle Field (or Bull Run, depending on where you're from.) LOTS of people... it took our car half an hour to travel about a mile due to the backup. Free food and fun music... very well organized and hugely attended. Nicely done."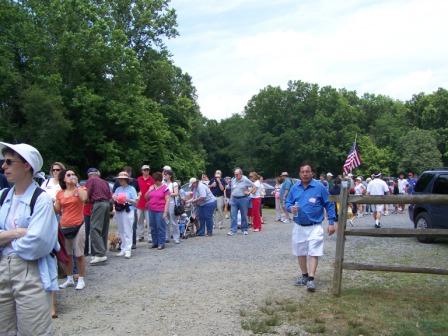 Thanks again to everyone for sending me your stuff. I hope I didn't miss anyone, if I did blame the Valu-Rite. Looks like a lot of people having a good time, expressing themselves through rights guaranteed to all Americans. Good way to celebrate the founding of our Nation.
Sidenote, political gatherings occasionally bring out a few cranks, it ain't nothing to get all huffed about. I wouldn't let the occasional goofball ruin my day, and it doesn't look like anyone else did either. Good on em.

posted by Dave In Texas at
10:20 AM
|
Access Comments