« What a Coincidence!
|
Main
|
Mark Sanford's Erotic New Audiobook "Soul Mates" »
July 02, 2009
Congress: What Fiscal Crisis?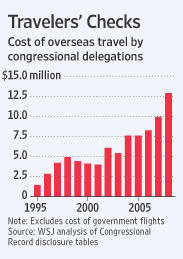 They've got places to go and...well, more places to go.
WASHINGTON -- Spending by lawmakers on taxpayer-financed trips abroad has risen sharply in recent years, a Wall Street Journal analysis of travel records shows, involving everything from war-zone visits to trips to exotic spots such as the Galápagos Islands.

The spending on overseas travel is up almost tenfold since 1995, and has nearly tripled since 2001, according to the Journal analysis of 60,000 travel records. Hundreds of lawmakers traveled overseas in 2008 at a cost of about $13 million. That's a 50% jump since Democrats took control of Congress two years ago.

The cost of so-called congressional delegations, known among lawmakers as "codels," has risen nearly 70% since 2005, when an influence-peddling scandal led to a ban on travel funded by lobbyists, according to the data.
The article outlines a number of questionable trips. The most egregious to me was a trip taken by Nancy Pelosi in February. She spent
one
day in Afghanistan visiting the troops after spending
eight
days in Italy.
Cost of meals and hotels alone? $57,697

posted by Slublog at
10:41 AM
|
Access Comments