« Mark Sanford: In Order to Oppose President Obama's Runaway Spending, I Have to Share With You the Details of My Tragic Love Story With My Soulmate, Who By the Way I Call "Pineapple-Head" Because She's So Sweet
|
Main
|
Seems Like Old Times: 46% of Country Now Finds Democrats "Too Liberal" »
June 30, 2009
God Help The Iraqis...Joe "The Sheriff" Biden Is Coming To Town
Haven't they suffered enough? As Iraqis celebrate what they are calling National Sovereignty Day, they get sucker punched like this.
President Obama is giving Vice President Biden a larger portfolio to handle, asking him to oversee reconciliation inside Iraq, but Biden will not be a mediator between factions.

"I think he will be involved in working with Shia, Sunni and Kurd to achieve political reconciliation. I would hesitate to use the term 'mediator,' " White House Press Secretary Robert Gibbs said at Tuesday's briefing. "Somebody who I think can oversee that we are making progress, that our attention and our resources are matched by what we see needs to happen. I think that he's well suited to do that."

The new responsibilities for Biden will include the Vice President working with the head commander in Iraq, General Ray Odierno, as well as members of Congress and Iraqis themselves, in order to overcome political differences towards the end result of reconciliation. Gibbs said the new role could also include some in-country visits and emphasized the Vice President is uniquely suited for the new role.
Yes, well if you consider advocating for an unpopular 3 way partition of Iraq up until about a year ago a unique qualification for fostering reconciliation, I guess that's true.
It's pretty surprising that Biden has time for all of this. Remember the whole "Nobody messes with Joe" thing that was supposed to comfort us about how well the so-called "stimulus" money would be spent? I guess he's got the website number memorized and has eliminated all that wasteful spending, so he's ready to take on another project.
That's why they call him Sheriff Joe of Arabia.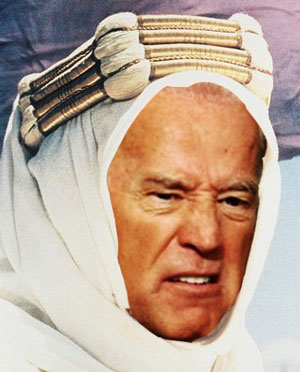 Courtesy of the one, the only, Slublog

posted by DrewM. at
07:31 PM
|
Access Comments