« Rev. Wright Is Back! It Seems The Jews Won't Let Him Talk To Obama
|
Main
|
US-Israel Relations Still Crumbling »
June 10, 2009
Change! Plurality In Rasmussen Poll Say Cancel The Rest Of The Stimulus Plan
Seems people are finally understanding that when you are in a hole stop digging.
Forty-five percent (45%) of Americans say the rest of the new government spending authorized in the $787-billion economic stimulus plan should now be canceled. A new Rasmussen Reports national telephone survey found that just 36% disagree and 20% are not sure.

According to news reports, only $36 billion of the stimulus plan had been spent as of late May.

Just 20% of adults say the tax cuts included in the stimulus plan should be canceled while 55% disagree. The stimulus plan includes $288 billion in tax cuts.

While there is a wide partisan gap on the question of stimulus spending, there is little partisan disagreement on maintaining the tax cuts.
Wait. Tax cuts are popular as a method to stimulate the economy? If only someone, like say House Republicans, had proposed that sooner. Oh, they did. But Obama won, so, sorry.
I can't imagine why people are having second thoughts. The money is working so well.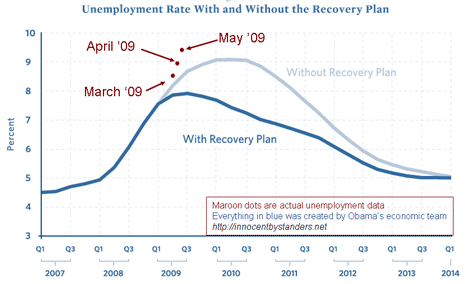 This is why Obama and the Democrats are in such a hurry to do so much (health care, cap and trade, immigration, etc), they know people are going to catch on to the fact their shit doesn't work. They need to get it passed before it's too late.
Below the fold...If Geoff's graph is too hard to understand, how about the failure of the so-called "stimulus" in pennies?

posted by DrewM. at
11:49 AM
|
Access Comments