« Smart Diplomacy: Suck Up To Our Enemies, Annoy Our Friends
|
Main
|
"It is unclear whether he committed suicide or not or he died of suffocation or heart failure due to an orgasm." »
June 05, 2009
Cheney Out Polls Pelosi In Approval Rating
37% approval for Cheney (Evil Be Upon Him) and 34% for the Queen of Botox. More importantly, Cheney's numbers are rising while Pelosi's are tanking.
It might have to do with Cheney speaking truth to power or something.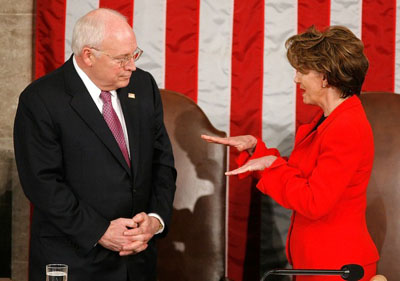 Yes Nancy, my approval ratings are represented by the higher hand.
About all those new Republican leaders who wanted to save the party by throwing Cheney under the bus...FYNQ.
Oh, House Republican Leader John Boehner would just like to remind everyone that Nancy is still a lying sack of crap when it comes to the "CIA lied to me"thing.
"She's made this outrageous claim," he said, asserting that it has undermined the ability of intelligence officials to keep America safe. Pelosi, he said, "believes that it's just all going to go away. Well, just trust me: It's not going to go away."

Boehner and fellow Republicans have vowed to keep the pressure on Pelosi to explain herself ever since she lobbed the accusation last month, insisting that she needs to either back it up with evidence or apologize.

"It's been three weeks since I asked Speaker Pelosi to back up her allegations that the CIA lied to her or purposely misled her," Boehner said at a news conference. "Allowing this to hang out there is unconscionable, and I just think the silence from Speaker Pelosi is deafening."
David Frum emails to say, "How can Republicans expect to win if they keep attacking fine Americans like Nancy Pelosi? This course is madness!"

posted by DrewM. at
01:13 PM
|
Access Comments