« Memorial Day 2009
|
Main
|
Overnight open thread – (genghis) »
May 25, 2009
Ahmadinejad To Obama: Yeah, I'd Like To Take You Up On That Promise To Meet This Year
Remember when Obama promised to meet with a veritable rogues gallery of "world leaders"? So does Ahmadinejad.
Mahmoud Ahmadinejad proposed on Monday a face-to-face debate with President Barack Obama at the United Nations if he is re-elected next month as Iran's president.

But he balanced the offer with a sharp rebuke to Washington and its allies over Iran's nuclear program. He reiterated that Iran would never abandon its advances in uranium enrichment in exchange for offers of easing sanctions or other economic incentives.

The nuclear issue "is closed," he told a news conference.

...His offer of to debate Obama could also be campaign posturing before the June 12 vote. But it does put Ahmadinejad on record as supporting a potentially groundbreaking encounter following Obama's offer for dialogue.

Ahmadinejad said that, if re-elected, he would be open to "debate global issues as well as world peace and security" during the U.N. General Assembly in September.

There was no immediate reaction from Washington.
Obama has tried to walk away from this commitment by claiming there was a difference between 'pre-conditions' and 'preparations' and that he wasn't talking about Ahmadinejad (despite the fact that his picture was used to demonstrate who the leader of Iran was).
Thankfully, Al Gore invented the internets, so this promise couldn't be shoved down the memory hole.
Looks like Ahmadinejad unclenched his fist just long enough to slap Obama in the face.
Also note Hillary's response. Wouldn't you love to be in the meeting where they work out those differences? My guess is it will look something like this.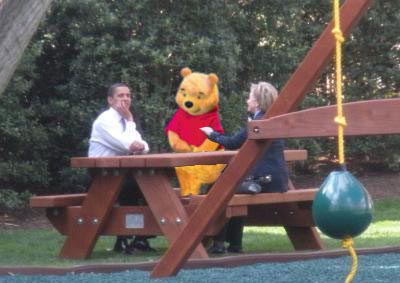 posted by DrewM. at
01:52 PM
|
Access Comments