« Antics at U.N. Racism Conference
|
Main
|
McCain To Get Primary Challenge From Chris Simcox, One Of The Founders Of Minutemen Group »
April 21, 2009
Obama: Hey, Who's Up for Some Witch Hunts?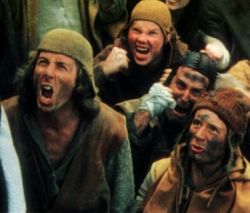 Time to throw the left a little red meat.
President Barack Obama Tuesday refused to close the door on prosecuting authors of Bush-era legal rationales for terror suspect interrogations, after offering immunity to CIA operatives involved.

Obama made a distinction between the agents who carried out harsh interrogations permitted by the White House after the September 11 attacks in 2001 and the legal officials which justified such methods.

"With respect to those who formulated those legal decisions, I would say that that is going to be more of a decision for the attorney general within the parameters of various laws."
Obama says he would take steps to ensure that such prosecutions be handled in a bipartisan manner, so these investigations wouldn't turn into a witch hunt.
Right.

posted by Slublog at
11:58 AM
|
Access Comments