« Attorney General Eric Holder Says America Is "A Nation Of Cowards" When It Comes To Talking About Race
|
Main
|
Great Moment »
February 18, 2009
Noted Race Hustler Al Sharpton: NY Post Is Racist For Printing A Monkey Cartoon Or Something.
Oh good, the perfect story to follow up the Holder 'cowards' story.
Says Rev. Al...
The cartoon in today's New York Post is troubling at best given the historic racist attacks of African-Americans as being synonymous with monkeys. One has to question whether the cartoonist is making a less than casual reference to this when in the cartoon they have police saying after shooting a chimpanzee that "Now they will have to find someone else to write the stimulus bill."

Being that the stimulus bill has been the first legislative victory of President Barack Obama (the first African American president) and has become synonymous with him it is not a reach to wonder are they inferring that a monkey wrote the last bill?
Here's the cartoon and here's link to the story that inspired it.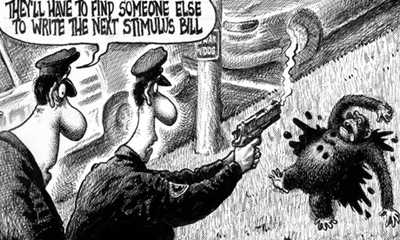 A couple of thoughts...
No more comparing Presidents to chimps (though clearly that wasn't what happened here)? HuffPo and Dkos contributors hit hardest!
Secondly, Al Sharpton is a walking piece of shit who would do us all a favor if he shut the hell up and went away forever.
And thirdly, for our idiot friends on the left, here's the inspiration for the Post's joke.
Eric Holder has yet to comment on whether this is what he had in mind or not.

posted by DrewM. at
05:29 PM
|
Access Comments