« Swell....Looks Like Obama Is Giving Up On European Based Missile Defense
|
Main
|
Note To Republican Office Holders...Don't Take On Rush »
January 28, 2009
Obama Spins And Lies About So-Called "Stimulus" Plan
I know that some are skeptical about the size and scale of this recovery plan. I understand that skepticism, which is why this recovery plan will include unprecedented measures that will allow the American people to hold my Administration accountable. Instead of just throwing money at our problems, we'll try something new in Washington – we'll invest in what works. Instead of politicians doling out money behind a veil of secrecy, decisions about where we invest will be made public, and informed by independent experts whenever possible.
What exactly is new that this so-called "stimulus" is going to try? The Wall Street Journal took a look at it and didn't seem to find much that's new or likely to work.
"Never let a serious crisis go to waste. What I mean by that is it's an opportunity to do things you couldn't do before."

So said White House Chief of Staff Rahm Emanuel in November, and Democrats in Congress are certainly taking his advice to heart. The 647-page, $825 billion House legislation is being sold as an economic "stimulus," but now that Democrats have finally released the details we understand Rahm's point much better. This is a political wonder that manages to spend money on just about every pent-up Democratic proposal of the last 40 years.

We've looked it over, and even we can't quite believe it. There's $1 billion for Amtrak, the federal railroad that hasn't turned a profit in 40 years; $2 billion for child-care subsidies; $50 million for that great engine of job creation, the National Endowment for the Arts; $400 million for global-warming research and another $2.4 billion for carbon-capture demonstration projects. There's even $650 million on top of the billions already doled out to pay for digital TV conversion coupons.
And then it gets really bad, from so-called tax cuts welfare payments to new cars for government cars, this is simply a catch-all for more and bigger government. The worst part is, unlike true stimulus which supposed to be quick and temporary, this spending orgy will become the floor for all future spending levels.
Now if Obama wanted to try "what works" and was "new", he might support a payroll tax cut. Yeah, not so much.
Any Republican who votes in favor of this crap needs to be hounded out of office.
UPDATE: Are House Republicans getting the message?
Dear Leader won't be happy about this.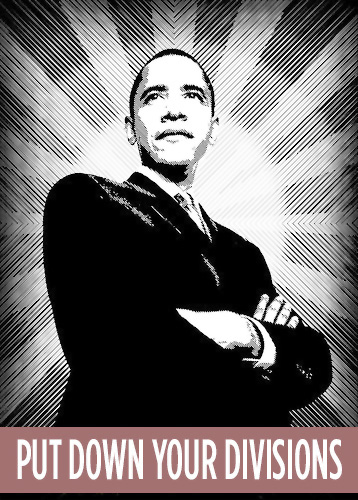 As always, thanks to Slublog. BTW...this quote was culled from something Michele Obama once said.

posted by DrewM. at
12:35 PM
|
Access Comments