« Overnight Open Thread: Computer Wars (genghis)
|
Main
|
Moron Meetup Success Last Night »
January 25, 2009
Brits Miffed At Double Entendre Place Names - [Cuffy Meigs]
Which is worse for our limey cousins, having embarrassing town and street names or using a French word to describe the dilemma? Local Crapstone resident Michael Hunt could not be reached for comment:

In the scale of embarrassing place names, Crapstone ranks pretty high. But Britain is full of them. Some are mostly amusing, like Ugley, Essex; East Breast, in western Scotland; North Piddle, in Worcestershire; and Spanker Lane, in Derbyshire.

Others evoke images that may conflict with residents' efforts to appear dignified when, for example, applying for jobs.

These include Crotch Crescent, Oxford; Titty Ho, Northamptonshire; Wetwang, East Yorkshire; Slutshole Lane, Norfolk; and Thong, Kent. And, in a country that delights in lavatory humor, particularly if the word "bottom" is involved, there is Pratts Bottom, in Kent, doubly cursed because "prat" is slang for buffoon.

As for Penistone, a thriving South Yorkshire town, just stop that sophomoric snickering.
Below the fold is a map, which may have had a few towns added: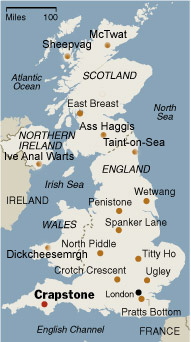 posted by xgenghisx at
06:25 AM
|
Access Comments