« Hope, Change And Cribbing From Bush?
|
Main
|
I Didn't See This Coming: WhiteHouse.Gov Says That If Iran Continues to Seek Bomb in Face of Tough Diplomacy, Obama Will Immediately... Step Up His Tough Diplomacy »
January 21, 2009
Former Holder Of The Office Of President Elect News Conference Statement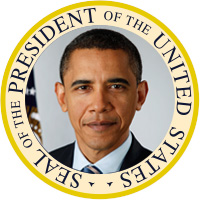 Update: It's not a press conference but rather a statement to executive branch members about his executive orders.
He's going to freeze salary increases for top advisers (how's that work since they just started yesterday?), do some stuff about lobbyist (but they are mommies and daddies too!)
Now Biden is swearing in the senior staff. It's pretty disorganized.
All in all, not much of anything. Who is against restrictions on lobbyists or greater openness in government? Pretty innocuous stuff.
Original post:
I'm guessing the questioning will be a little more, um, what's the word? Chummy? Professional? Worshipful?
Stand by for any interesting news that may come from this.
Related thought to ponder...Helen Thomas says she's a liberal but "I was never, never accused of bias in my copy".

posted by DrewM. at
01:15 PM
|
Access Comments