« Oddly Enough, Newsbusters Is Finding a Lot to Blog About Today
|
Main
|
Video Flashback: How Bush's 2001 Inauguration Was Treated By the Left »
January 20, 2009
President Obama Strolls Down Pennsylvania Avenue Wearing Smart Engish-Cut Suit; Michelle, Meanwhile, Wears Ceremonial T'k'arnanth Klingon Battledress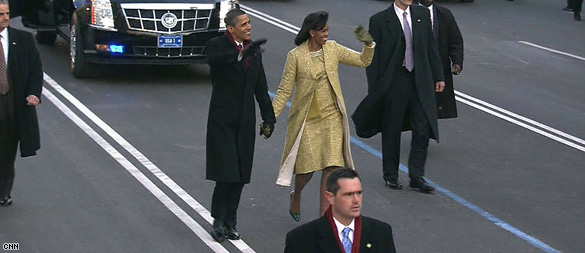 Hey, nice dress. Who shot the curtains?
I didn't realize Lt. Worf was so "hippy." The Dodge Viper looks up to her for having a wide rear wheelbase.
Hey, is this mean? Here's my response to that: Go fuck yourself sideways with a hot brick from a pizza oven.
First Lady Bush -- and her daughters -- were savaged, as was Sarah Palin.
Michelle Obama is not a good-looking woman, unless you like them "fierce" in the literal, rather than gay-fashion-lingo, sense. Last time I saw a mouth like that it had a hook in it was in Predator.
I don't want to be bitchy, but Michelle Obama looks like she just got a full-body bukake from 30 horny couches.
She looks like she just got raped by the cast of Joseph and the Amazing Monocolor Dreamcoat.
I'm not saying she's bulky, but is she wearing a coat, or is that the jibsail from a gay pirate ship?
I don't want to say she looks immense in that gold circus-costume, but Auric Goldfinger just had a stroke-inducing orgasm.
Oops, he had another one. And another one. Once is happenstance; twice is coincidence; the third time it's a fashion nightmare.
Chewbacca just called. He wants his wife's housecoat back.
Completely Unrelated:
Language Warning.
Skip to 6:30 for the payoff.

posted by Ace at
04:14 PM
|
Access Comments