« Yon v. Moore
|
Main
|
Now They Tell Us: WaPo, Setting Bar Lower for Obama, Tells Us that US "Will Never Have Enough Troops" to Elminate Taliban »
January 13, 2009
Iranians Burn Pictures Of Obama At Anti-US Protests
It seems not everyone is on board with unicorns and rainbows. Didn't will.i.am think to release a Farsi version of Yes We Can?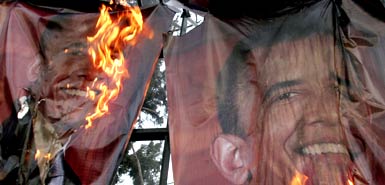 Iranian demonstrators burned photographs of Barack Obama today as they protested against America's inaction over Gaza.

Dozens of people gathered in Tehran waving Palestinian flags and defacing and setting fire to images of the President-elect.

...The demonstrators, waving Palestinian flags, some chanting "Death to Obama", had gathered outside the Swiss embassy which handles US interests because Tehran and Washington have not had diplomatic ties for nearly three decades.

Pictures showed the president-elect's image laid on the road for cars to drive over it and other images showed demonstrators burning an Obama poster.
Well, I guess they won't be on the guest list for the promised meeting between Obama and Ahmadinejad.
I can't wait to see all the people who so recently praised the piece of shit Iraqi who threw as shoe at President Bush suddenly decide how uncool all of this is.
And no, it won't be any fun to see people on the right channel their inner Kosack and suddenly think this is acceptable since it's Obama.

posted by DrewM. at
01:21 PM
|
Access Comments