« Bush Visited The Troops...A Lot (1st In A Possible Series Of Things I'll Miss About George W. Bush)
|
Main
|
Christians Publicly Celebrate Christmas in Baghdad for First Time; CNN Doesn't Televise Report »
December 22, 2008
Fundraiser "Individual D" Seeks Immunity in BlagoGate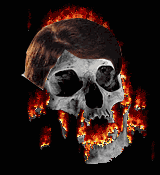 Blagocentrick Flaming Skull by Slublog
Connected, it seems, to Senate Candidate 5, who is pretty much known to be Jesse Jackson Jr.
Is this bad for JJJ? Check out his lawyer's reaction at the end of the excerpt.
A key figure in Gov. Rod Blagojevich's alleged scheme to sell a U.S. Senate seat has sought immunity from federal authorities in return for his cooperation in their ongoing probe, the Tribune has learned.

Raghuveer P. Nayak, an Oak Brook businessman and political fundraiser, is the unnamed "Individual D" who prosecutors say was being squeezed by the governor for campaign cash in return for appointing U.S. Rep. Jesse Jackson Jr. to the Senate seat vacated by President-elect Barack Obama, sources said.

...

The Tribune has reported that Nayak hosted an Oct. 31 luncheon where he discussed raising $1 million for Blagojevich to help persuade the governor to choose Jackson. The congressman's brother Jonathan appeared at a Nayak-sponsored fundraiser for the governor three days before Blagojevich was arrested.

The congressman has acknowledged speaking with Nayak about his desire for the Senate seat but said he did not endorse and was not aware of a fundraising effort to support his bid.

On Sunday evening, Jackson's lawyer, James Montgomery Sr., reacted to the news of Nayak's bid for immunity by saying, "If that is indeed the case, and if that cooperation relates to my client, then [Nayak] is trying to save his own skin. That's all I have to say."
The article notes dutifully that Nayak has not been accused of wrongdoing.
But as Captain Ed notes, people often look for immunity when they're about to be accused of wrongdoing.
Jackson's lawyer's comment about "trying to save his own skin" suggests that he's going to be talking about Jackson. And not in a good way. Why run down a guy who doesn't have dirt on you? I've never heard an innocent man call a government witness a rat.
This sets up an interesting possibility. Obama's Justice Department may wind up taking down the formerly most-powerful black political clan in America. I don't think that blacks will hold that against Obama... but will Jeremiah Wright? Not only is he pissed off in the first place, but he's announced he'll call out Obama when he thinks he's doing wrong.
And then what? Maybe squeal a little on his estranged protege? Not about illegalities, but about the time he spent in his church, I mean.

posted by Ace at
03:08 PM
|
Access Comments