« Compare and Contrast
|
Main
|
Fuck You, Penguin: A Blog Dedicated to Posting Cute Animal Pictures, and Then Snidely Insulting Them »
December 16, 2008
Michael Barone Whiffs on UAW Piece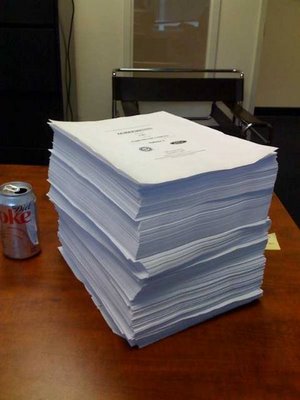 22 Pounds of Fat: The UAW's Work-Rules with GM,
Mandating as Much Inefficiency and Excess Cost as Humanly Possible
It's not often I think Michael Barone is out to lunch, but he seems as wrong as possible here.
Before getting to that, an interesting nugget from Kaus, which I didn't know.
A misguided Warren Court decision--basically requiring unions to prosecute individual grievances under a "duty of representation"--magnified the Wagner Act's inherent adversarialism, it should be noted. Before the decision, unions could pick and choose only the best grievances and drop the rest. (In 1957 at GM, for example, the UAW only pursued 24 grievances to arbitration, according to Robert M. Kaus).
Did you know that? I didn't. I thought unions were solely being pricks about enforcing every idiotic work-rule to the letter. Now I find out that the Warren Court -- thanks, guys! -- actually mandated they do so. (I assume the case was brought by a union worker whose beef had not been pursued by the union; the Court ruled that as his representative, the union was obligated to bring every single beef of his to management.)
On to Barone:
Mickey Kaus, pretty much alone among the commentators I've been reading, indicts "Wagner Act unionism" for the decline and fall of the U.S. auto industry. The problem, he argues, is not just the high level of benefits that the United Auto Workers has secured for its members but the work rules—some 5,000 pages of them—it has imposed on the automakers. As Kaus points out, unionism as established by the Wagner Act is inherently adversarial. The union once certified as bargaining agent has a duty not only to negotiate wages and fringe benefits but also to negotiate work rules and to represent workers in constant disputes about work procedures.

The plight of the Detroit Three auto companies raises the question of why people ever thought this was a good idea. The answer, I think, is that unionism was seen as the necessary antidote to Taylorism. That's not a familiar term today, but it was when the Wagner Act was passed in 1935. Frederick Winslow Taylor was a Philadelphia businessman who pioneered time and motion studies. As Robert Kanigal sets out in The One Best Way, his biography of Taylor, he believed that there was "one best way" to do every job. Industrial workers, he believed, should be required to do their job in this one best way, over and over again. He believed workers should be treated like dumb animals and should be allowed no initiative whatever, lest they perform with less than perfect efficiency.

Taylor's work was regarded as gospel by many industrial managers in the 1910s, 1920s, and 1930s, a time when many factory workers were recent immigrants, often with a less than perfect command of English. Auto assembly lines were organized on Taylorite principles to squeeze the last bit of efficiency out of low-skill workers. And squeeze some more. If you ask UAW defenders why they have so many work rules, they will tell you horror stories of the "speedup" dating back to the 1930s. Workers who were required to do some operation 20 times an hour were told to do it 30 times an hour, and so forth. Wagnerism was a response to Taylorism.

Workers hated these jobs.

There are several problems here.
First: Workers hated these jobs? So what? It is what they are being paid to do. Barone speaks as if standardization and repetition of single action is a bad thing, because "workers hated these jobs." They may have hated them, but this sort of industrial production is what made goods cheap in the twentieth century.
Previously, of course, goods were crafted by artisans. Problem? Artisans were highly skilled and had many years of apprenticeship invested in them. That means their labor cost a lot more. And since there were so few of them, they produced few goods, and therefore the cost of goods were inflated by scarcity.
The whole point of modern industry is to separate each and every action taken to construct something, train unskilled workers to do a simple task over and over again, and thereby 1) make most of the labor cheap and 2) produce a hell of a lot more goods therefore dropping the price of goods to levels until then unheard of in history.
The workers might have "hated these jobs," but they were decent jobs, especially for unskilled laborers. And these hated jobs fueled the unprecedented prosperity of the twentieth century. And besides -- an assembly line is hardly the place for creative expression or freewheeling improvisation.
But more importantly, Barone misses the fact that work-rules actually limit what can be asked of a worker -- they do not expand the universe of tasks he may be asked to do. If workers "hated these jobs" because they just did the same damn thing all day long, eight hours a day, five days a week, why would the unions impose work-rules mandating that a welder on a frame assembly line could only be asked to work as a welder on a frame assembly line, and could never be asked to help out on the engine-installation line, or even moved to the welding quality-check group?
If Barone is right that Wagnerism came about due to Taylorism... um, why wouldn't the workers who "hated these jobs" of single-action repetition be happy to be swapped to a new line or new task for a day or a week?
The unions instituted these rules for two reasons: The first is coercive. If a company finds it has too many welders on the line, they cannot move one of those unneeded employees anywhere else without negotiating with the union, and giving the union some concessions.
Many work-rules are basically chits to be traded. They're idiotic, and designed to so be, but modifying that idiocy will come at a price.
The second reason for such rules is to maximize the number of union workers employed, even at the expense of the company's competitiveness. If the welding line is moving quickly but the engine-installation line is moving slowly, thus causing a bottleneck at the engine-installation point, the company cannot just move some welders over to that other line. It's in the work-rules. The union's position is "Well, if you have too many people on the welding line and not enough on the engine line, tough cookies. Keep the same number of people on welding, and just hire more on engines."
Even when a slow-down is not chronic but merely temporary (say one line got the flu), workers cannot be moved about to increase efficiency The company is faced with the choice of being undermanned in one area and thus slowing down production for the whole plant, or being overmanned in all areas and not facing slow-downs very often but at the cost of paying more in labor costs than is prudent.
This is the whole point of work-rules -- to be as inefficient as possible. Inefficiency = more concessions and more workers.
Up to a point. At some point -- and we've reached it -- inefficiency equals declining quality, declining sales, and the possibility of wholesale shuttering of factories and very few concessions and very few jobs.
But the unions will not budge. The unions would have to give up a lot less in salary and benefits if they'd just stop with these anti-efficiency, adversarial work-rules. Without such rules, companies would be more productive, producing more units at lower prices, resulting in greater sales, resulting in less pressure to bring down labor costs... but they won't do it.
Oh, there would still have to be cuts. But the cuts would not be quite as deep.
Instead, they expect the taxpayers to subsidize the unions' dedication to reducing efficiency and productivity to as low a level as the market will bear. And then some.
The UAW's mission is to make the auto industry as inefficient and as non-productive as possible. Their competitors in Japan and Korea are dedicated to making their industry as efficient and productive as possible.
Did they not see this particular well-engineered, zero-defects train heading down on them at any point in the past 30 years?
Are we supposed to pay to subsidize their determination to make fewer cars at higher prices and lesser quality?

posted by Ace at
07:05 PM
|
Access Comments