« CROWS: R2D2 With a Bad Attitude
|
Main
|
Senate Source: Auto Bailout Dead, At Least Until Next Year »
December 11, 2008
Automaker Bailout Back On? UPDATE: Apparently Not UPDATE X2 GOP Wanted Wage Parity In 09, UAW When Current Contract Expires In 2011. Clouture Fails, Bailout Dead Until At Least January.
It seemed as if Republican opposition in the Senate had killed the auto bailout earlier today but nothing is ever really dead in DC. Shockingly, there was a bipartisan Group Of unknown size involved in bringing it back to life.
A bipartisan group of senators reached tentative agreement Thursday night on an emergency $14 billion bailout for U.S. automakers, the Senate's top Democrat said. Majority Leader Harry Reid said the lead Republican architect of the deal was briefing colleagues on the compromise, and Democrats were prepared to move forward on it quickly.

"We're ready to go," said Reid.

His announcement came after hours of marathon talks at the Capitol between labor, lawmakers and the auto industry to salvage the Big Three rescue. The talks centered on possible wage and benefit concessions from the United Auto Workers union as well as large-scale debt restructuring by General Motors Corp., Ford Motor Co. and Chrysler LLC.

The details of the agreement weren't immediately known, and it was not clear whether Republicans senators — who revolted against an auto bailout the Bush White House negotiated with congressional Democrats — would go along.

Leaders stressed that the deal wasn't final.

"All issues are still on the table," said Sen. Dick Durbin of Illinois, the No. 2 Democrat, as he emerged from the talks.

But it was clear lawmakers had made substantial progress toward getting the auto industry aid back on track, and members of both parties were in search of an accord.

"We've got some issues still to resolve but we all want to resolve them," said Sen. Bob Corker, R-Tenn., who led the closed-door talks for his party.
No word yet on any riots breaking out.
What Corker wanted to do was give the "Car Czar" more power to force concessions from the UAW.
Corker has put forward an amendment that would give a federal "car czar" the power to force the Detroit three into bankruptcy if they didn't comply with certain restructuring goals, which would include tough concessions from the unions. Senate GOP leader Mitch McConnell praised Corker's amendment in his speech today.

The danger here for conservatives is that Corker comes out of negotiations with a watered-down version of his original proposal, but one that still sounds tough enough to garner significant Republican support. If that happens, there's a chance that Harry Reid can get the 60 votes he needs to bail out the Detroit three.
Republicans get rolled by Democrats? Surely you jest!
I put the question mark in the headline because it's not done yet but let's be honest, there's no way Congress can do nothing. I'm not saying they shouldn't but the fact is when these things happen, Congressmen and Senators seem compelled to do something, whether it helps or hurts.
UPDATE: Chris "Friend Of Angelo" Dodd is blaming Senate Republicans for killing the auto industry. Heh. He said the only issue they couldn't come to agreement on was the pay cut that would create parity between US manufacturers and foreign manufacture here in the US. Dodd said the UAW agreed to that, they just wouldn't agree to setting a date when it would happen. Which you know, is not exactly agreeing on it.
Corker is speaking now, he said Republicans told Democrats and the UAW to 'pick any day in 2009' and they said no. Perhaps I'm too cynical but it seems like the union wasn't really serioius about that whole parity thing after all.
Debbie Stabenow from Michigan is claiming that the Republicans only want to screw workers by cutting their wages. It's almost like she has no fucking clue about the economics of the auto industry or something.
Apparently the UAW wanted the wage parity part of the plan to wait until 2011 when their current contract expires.
Reid says it's dead until next Congress starts up in January. He suggests that Bush should use TARP money to get the automakers through.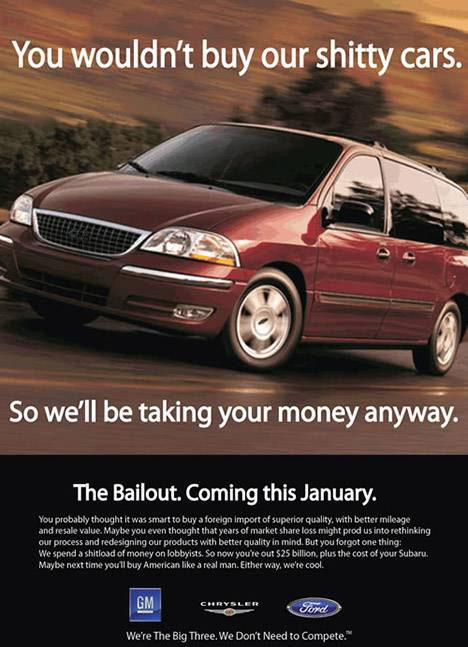 Thanks to Mike via Dave in Texas

posted by DrewM. at
09:12 PM
|
Access Comments