« The Context of the Blago Arrest the Media Won't Report
|
Main
|
Joe The Plumber Really Is One Of Us...He Didn't Like McCain All That Much Either »
December 09, 2008
Ah, Of Course: Obama Claims No Contact with Blago; Axelrod's Nov. 23 Interview Says There Was Contact; Obama Team Now Says Axelrod "Misspoke"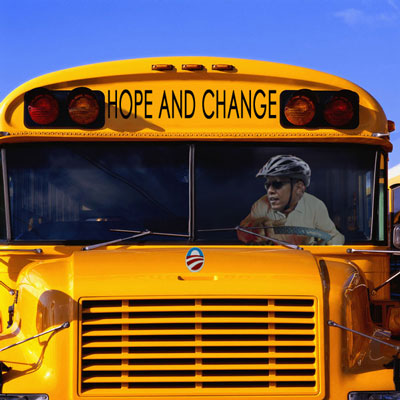 Obama's getting pretty good at denying any contact whatsoever with people known to be close associates.
Flashback: Among his many sudden "I don't even know that guy" claims-- Franklin Raines. And fellow communist Mike Klonsky.
Note that Raines is similar to this new claim-- Raines self-reported being an advisor to Obama on economics, the Washington Post reported it and then reported it again. Team Obama did not ask for a correction.
Until Franklin Raines was linked to Fannie Mae and became a liability. At that point, the famously media-patrolling Obama machine objected that Raines original claim, and the Washington Post's two reports, were faulty.
In this case, Axelrod's statement has been on the record for, what, two and half weeks now. Why is Team Obama only now realizing he "misspoke" after 17 days?
Might it be -- see if you can follow me on this; it gets a little complicated -- that Axelrod didn't misspeak at all, and hence no correction, until now, when Blago's arrested, and it suddenly becomes important to claim Axelrod misspoke?
I know that's crazy-talk. Just throwing it out there.
Obama and Blago's Connections:
Obama Advised Blagojevich On His Victorious Gubernatorial Run. "That year, [Obama] gained his first high-level experience in a statewide campaign when he advised the victorious gubernatorial candidate Rod Blagojevich, another politician with a funny name and a message of reform." (Ryan Lizza, "Making It," The New Yorker, 7/21/08)

Obama: "If the governor asks me to work on his behalf, I'll be happy to do it." (John Patterson, "Senator Says He's Still Willing To Help Blagojevich Despite Hiring Concerns," Chicago Daily Herald, 7/27/06)


Obama Endorsed Blagojevich For A Second Term. "Obama, who endorsed Blagojevich for a second term nearly 18 months ago, said he's ready to help Illinois democrats in the upcoming elections." (John Patterson, "Senator Says He's Still Willing To Help Blagojevich Despite Hiring Concerns," Chicago Daily Herald, 7/27/06)

Obama: "We've got a governor in Rod Blagojevich who has delivered consistently on behalf of the people of Illinois." (Deanna Bellandi, "Illinois Democrats Talk Unity But Don't Show It," The Associated Press, 8/16/06)


posted by Ace at
05:41 PM
|
Access Comments