« Another Successful Test of an Unproven Missile Defense System
|
Main
|
Lara Logan, In-Bedded Reporter »
June 26, 2008
Mike Klonsky Now Under the Bus Too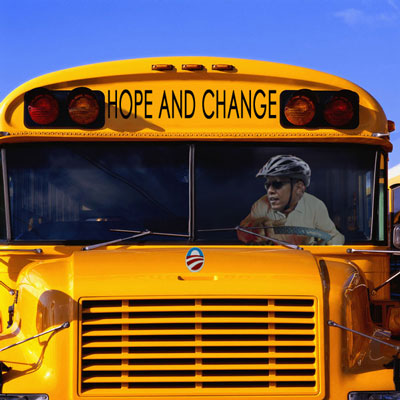 His ObamaBlog has been airbrushed from history.
Obama has a "very tight message," you know, as he told Muslim Rep. Keith Ellison. A tight message, but a wide circle of close associates. It's just not part of that "tight message" that you should know about them.
For good measure, he also tossed his previous support of the DC Handgun Ban under the bus, too. Why? Well, if this were a live issue, he'd be forced by the left to fight for it and continue advocating for the constitutionality of the gun ban. But with the Supreme Court having decided against that stance, there's not much he can do about it now, which frees him up to pretend he was in favor of gun rights all along. He thus courts the center/right while not really losing any support on the left, who are (mostly) sensible enough to know there's no point fighting for a lost cause. Especially a politically unpopular lost cause.
ConYang tallies up the bus victims, including those currently clinging to the bumper.

posted by Ace at
01:25 PM
|
Access Comments