« Bank Of America Caves, Gives Money To Republic For Employees
|
Main
|
Lawyer Uses the F-Bomb in Court; Gets Six Months in Jail »
December 09, 2008
Indictment Excerpt: Blago Conspires to Yank State's Support of Chicago Tribune Owned Cubs Unless They "Fire All These People [Criticizing Me and Calling for Impeachment], Get 'em the fuck out off there and get us some editorial support"
All this nationalization of industry. Corporations becoming dependent on government officials for their lifeblood.
What could go wrong?
In this excerpt, Blago plans to block the state's support of the sale of the Cubs unless the Cubs' parent company, the Tribune Company, plays ball.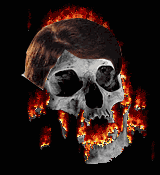 (Slublog's special Blago-centric flaming skull)
As Instapundit would say, "They told me if George W. Bush were elected, politicians would use muscle to muzzle the free media, and they were right!" Update: Whoops, he did say it. I thought he'd missed the opportunity.
During the call, ROD BLAGOJEVICH's wife can be heard in the background telling ROD BLAGOJEVICH to tell Deputy Governor A "to hold up that fucking Cubs shit. . . fuck them." ROD BLAGOJEVICH asked Deputy Governor A what he thinks of his wife's idea. Deputy Governor A stated that there is a part of what ROD BLAGOJEVICH's wife said that he "agree[s] with." Deputy Governor A told ROD BLAGOJEVICH that Tribune Owner will say that he does not have anything to do with the editorials, "but I would tell him, look, if you want to get your Cubs thing done get rid of this Tribune." Later, ROD BLAGOJEVICH's wife got on the phone and, during the continuing discussion of the critical Tribune editorials, stated that Tribune Owner can "just fire" the writers because Tribune Owner owns the Tribune. ROD BLAGOJEVICH's wife stated that if Tribune Owner's papers were hurting his business, Tribune Owner would do something about the editorial board. ROD BLAGOJEVICH then got back on the phone.

ROD BLAGOJEVICH told Deputy Governor A to put together the articles in the Tribune that are on the topic of removing ROD BLAGOJEVICH from office and they will then have someone, like JOHN HARRIS, go to Tribune Owner and say, "We've got some decisions to make now." ROD BLAGOJEVICH said that "someone should say, 'get rid of those people.'" ROD BLAGOJEVICH said that he thinks that they should put this all together and then have HARRIS or somebody go talk to the Tribune owners and say, "Look, we've got decisions to make now. . . moving this stuff forward (believed to be a reference to the IFA
helping with the Cubs sale) . . . someone's gotta go to [Tribune Owner], we want to see him..."


75. During an intercepted call on November 4, 2008, ROD BLAGOJEVICH spoke
with Deputy Governor A. ROD BLAGOJEVICH told Deputy Governor A to think about the "Tribune stuff" and that he is going to talk to HARRIS as well. Deputy Governor A confirmed that he has people doing the "research right now." ROD BLAGOJEVICH, in discussing taking the issue to Tribune Owner, stated, "then we'll say, look, we got a problem at IFA. Here it is."


...

ROD BLAGOJEVICH stated that because of the impeachment articles, "we don't know if we can take a chance and do this IFA deal now. I don't want to give them grounds to impeach me." ROD BLAGOJEVICH stated that "our recommendation is fire all those fucking people, get 'em the fuck out of there and get us some editorial support."
Thanks to Tom.
More: Blago says "tape me, I'm 100% sparkling clean."
Speaking to reporters Monday for the first time since the Tribune revealed federal investigators had recorded him and others as part of their corruption probe, Blagojevich said his discussions were "always lawful." He also defended close confidant John Wyma, whose cooperation with federal agents helped lead to the recordings, as "an honest person who's conducted himself in an honest way."

"I should say if anybody wants to tape my conversations, go right ahead, feel free to do it," he said. "I appreciate anybody who wants to tape me openly and notoriously, and those who feel like they want to sneakily, and wear taping devices, I would remind them that it kind of smells like Nixon and Watergate."

Unlike the recordings that the federal government has of Blagojevich, the tapes that led to President Richard Nixon's 1974 resignation over the burglary of Democratic offices at the Watergate complex and the ensuing coverup were made by Nixon himself.

Regardless of "whether you tape me privately or publicly, I can tell you that whatever I say is always lawful and the things I'm interested in are always lawful," Blagojevich said. "And if there are any things out there like that, what you'll hear is a governor who tirelessly and endlessly figures out ways to help average, ordinary working people."

...

Blagojevich has not been charged with any wrongdoing and contended that if federal investigators areƒs "going to those lengths and extents [of obtaining recordings], if in fact that's true, that would suggest all the past has been pretty good."

"I don't believe there's any cloud that hangs over me. I think there's nothing but sunshine hanging over me," the governor said.
"Sunshine" refers to Blago's expected cellmate, a member of the Aryan Brotherhood whose turn-ons include sunsets, confidence, and laundry-room forcible sodomy.
One Man's Crime: As Slublog ably pointed out, CNN is already playing Name that Party! with Blagojevich -- a marked contrast with the coverage of (to name one) Ted Stevens, whose partisan affiliation was relentlessly, mercilessly repeated each time he was mentioned.
I must repeat myself: The media's template is that Republican wrong-doers are emblematic of basic, fundamental corruption in the Republican Party, and hence their crimes can and should be associated with the party as a whole. The entire GOP is an unindicted co-conspirator whenever a Republican breaks the law.
However, when a Democrat breaks the law, it is because he has deviated from the True Path of Righteousness that is modern liberalism, and hence his partisan affiliation is entirely unimportant, and in fact should be actively suppressed.
When a Republican breaks the law, the entire party is culpable. When a Democrat breaks the law, it's one man's crime, and only that one man's crime, and suddenly all mentions of party affiliation are absent.
This is going to be a more difficult trick than usual here, given how extensive and systematic and Democrat-controlled Illinois corruption is, but I trust the media will give their all to The Cause.
It's positively Stalinesque. No, I mean Stalinesque in this way: Stalin's crimes were not part of True Socialism, but a terrible deviation from True Socialism. You can't blame True Socialism for what Stalin did.
The MSM cannot save particular men -- but they can always nurture and protect The Cause from the failures and embarrassments of its all-too-human servants.

posted by Ace at
04:01 PM
|
Access Comments