« Top Headline Comments 12-09-08
|
Main
|
US Attorney Blagojevich Press Conference Now Is Over »
December 09, 2008
Illinois Governor Arrested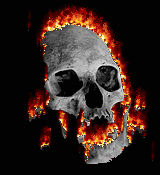 Illinois Gov. Rod R. Blagojevich and his Chief of Staff, John Harris, were arrested today by FBI agents on federal corruption charges alleging that they and others are engaging in ongoing criminal activity: conspiring to obtain personal financial benefits for Blagojevich by leveraging his sole authority to appoint a United States Senator; threatening to withhold substantial state assistance to the Tribune Company in connection with the sale of Wrigley Field to induce the firing of Chicago Tribune editorial board members sharply critical of Blagojevich; and to obtain campaign contributions in exchange for official actions – both historically and now in a push before a new state ethics law takes effect January 1, 2009.

Blagojevich, 51, and Harris, 46, both of Chicago, were each charged with conspiracy to commit mail and wire fraud and solicitation of bribery. They were charged in a two-count criminal complaint that was sworn out on Sunday and unsealed today following their arrests, which occurred without incident, announced Patrick J. Fitzgerald, United States Attorney for the Northern District of Illinois, and Robert D. Grant, Special Agent-in-Charge of the Chicago Office of the Federal Bureau of Investigation. Both men were expected to appear later today before U.S. Magistrate Judge Nan Nolan in U.S. District Court in Chicago.
I guess Tony Rezko's songs must be pretty sweet.
Update - The story linked above is actually a release from the US Attorney's office, so it doesn't mention party. However, CNN gives us a chance to play "Name That Party!"
Just for fun, compare their curious silence on Blagojevich's partisan affiliation with how they covered Ted Stevens.
The Smoking Gun has a section of the criminal complaint against Blagojevich.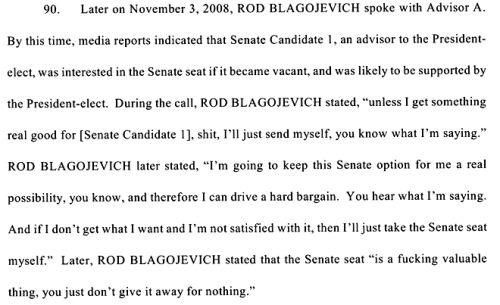 Nothing but class.
Here's another excerpt from the complaint that shows how irritated Blagojevich was with the president-elect. Astounding:

Good grief. Illinois knows how to pick them.
Allah wonders whether 'Senate Candidate 1' was Valerie Jarrett, who Obama reportedly wanted for the seat.
Update [Slublog] Given the level of anger Blagojevich displays toward Obama in this complaint, my suspicion is that the president-elect gave his old buddy the cold shoulder after the election, and this scheme was Blagojevich's response to being shut out. Weapons-grade stupid.
Rezko Deal Under Scrutiny? - Drudge's blaring headline: "GRAND JURY SUBPOENAS ISSUED ON REZKO/OBAMA LAND DEAL." Men. Looks like that was from October. Drudge strikes again.

posted by Slublog at
10:07 AM
|
Access Comments