« U.S. Economy In Recession; Women, Minorities, and Bullshit Artists Hardest Hit [Vinnie]
|
Main
|
NY Times And Tribune Company Sinking Fast »
December 08, 2008
Media Totally Okay with Big Obama Party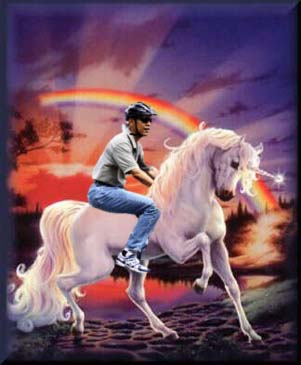 Obama on his way to the inaugural. (Artists conception)
Remember all of those stories in 2004 in which the media and the Democrats encouraged President George W. Bush to tone down his party because we were at war, and tsk-tsking about the fact that donations bought access?
WASHINGTON (AP) - Unemployment is on the rise. The stock market is in the tank. Is this any time for a party?

For the sake of the masses of people expected for President-elect Barack Obama's inauguration, let's hope so. While Obama must be sensitive to the nation's time of war and recession, there's still reason to expect a rollicking time.

"We're mindful of the fact that people in this country are hurting, that they're going through hard times," said Linda Douglass, spokeswoman for the Presidential Inaugural Committee. "On the other hand, we see this not just as a celebration of an election, but as a time for people to come together and celebrate their common values and shared aspirations and goals."
Get that? When Republicans are being inaugurated in tough times, they have to be sensitive so their parties don't offend the sensibilities of the American people. Barack Obama's inauguration, though, is a needed balm for our shattered national psyche. It's a chance to heal and come together.
As for the cost, I wonder why Obama doesn't save a few bucks and do some recycling.

posted by Slublog at
09:08 AM
|
Access Comments