« Guy Almost Saves His Marriage Via Skillful Deployment of Reassuring Sockpuppets
|
Main
|
Somali pirates: modern day Robin Hoods... heros... redistributors of wealth »
November 19, 2008
40 Year Old Man Named Sexiest Man Alive UPDATED
Missed it by that much.
People Magazine, a publication that oddly carries more credibility these days than a Gay Gossip and Antisemitic Conspiracy Newsletter has named Mr. Hugh Jackman (a close, personal friend of mine) the Sexiest Man Alive.
Well, I'm happy for my friend Hugh. I just wanted to kick one of those hypothetical questions out to the morons tonight. Who's the Sexiest Man Not Alive?
Don't think of it as some kind of "test" or something. Imagine yourself in a time machine. Wearing a tight pink sweater. Go with that.
...

sexiest man alive below the fold...
UPDATE: now we're rolling..
176 okay: Chest Hair or No Chest Hair? The People site had some quite nice pics as well as their sexiest men. Posted by: CInAz at November 19, 2008 10:58 PM (BhJB2)
say it. you know you want to.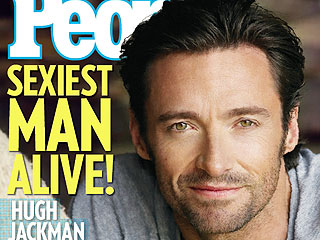 Is that whole "I didn't shave this week" working for you gals (guys, NTTAWWT)?
I could adjust. For 2009.


posted by Dave In Texas at
08:01 PM
|
Access Comments