« NRO Not Accepting CNN's Apology
|
Main
|
Obama Campaign Finance Fraud Gains Traction
UPDATE: MEDIA REFUSING TO REPORT, INSISTS CONTRIBUTIONS ARE REAL-- DESPITE OCT. 9 NYT REPORT NOTING FICTITIOUS CONTRIBUTORS »
October 23, 2008
Backwards B? Not So Much
Yes, I mentioned this myself. I now realize it's idiotic.
For one thing, the image could be flipped.
For another thing, she could have taken a picture of herself in a mirror.
For a third -- if she were on her back, her head held by the attacker's left arm below her chin, her head between his legs as he scratched -- she'd be upside down as oriented to him.
You know what that would end up looking like?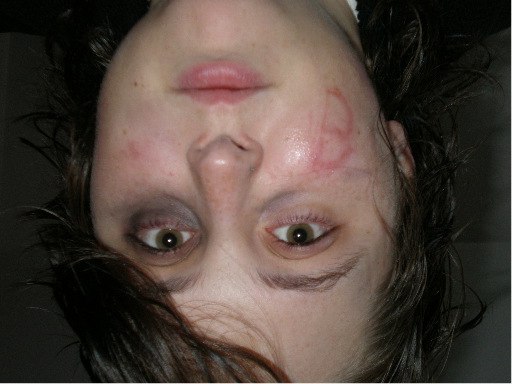 Not backwards at all, that's how it would look.
This speculation is silly.
Others have made this point, but Devil's Advocate at Copious Dissent took the simple step of turning the picture upside down to graphically demonstrate how ridiculous it is to keep talking about the backwards B.
There are so many sensible explanations for this that to cry "hoax" over this one point is silly.

Video Report: Linked at Newsbusters.

posted by Ace at
06:20 PM
|
Access Comments