« The US Marines In Anbar Province: They Went, They Saw, They Kicked Ass
|
Main
|
AP Oversamples Dems In New Poll... And Can Only Come Out with a Statistical Tie »
October 17, 2008
"I am Joe the Plumber"
A reader requested a photoshop along these lines. He asked for one that referenced the I'm a Mac/I'm a PC thing, but I couldn't see how to do that in a single p-shop so I just asked Slublog to go with Spartacus: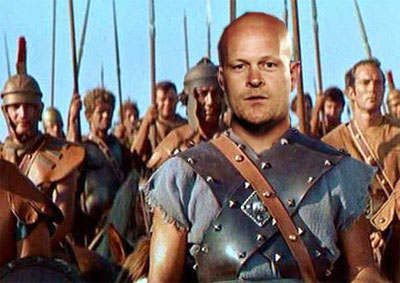 Cute, huh? Well, it turns out the knuckle-dragging, mouth-breathing, soup-slurping submoronic "grassroots" that Chris Buckley, Peggy Noonan, and friends have such disdain for are actually staging their own rather witty Spartacus reenactments:
In fairness, they probably got that idea from "the elites" without whom they'd be utterly unable to tie their shoes or tell time.
Awesome Video Rant by "Grassroots" Submoron: Just anecdotal evidence. But there might be some resonance here.
This guy seems blue collar, like that imbecile Joe the Plumber, so I assume "elites" were around to explain to his ig'rant ass how to turn on the picture-gizmo, and how to move his face-hole to make word-sounds come out, and how to refrain from fun-touching his daddy-stick for a full five minutes.
Another Pic & McCain Defends Joe: Detail they could have omitted: When they bend over, they display their plumber's half-moon.
Guys: You don't have to get that far into character.
Thanks to CJ for that.

posted by Ace at
02:49 PM
|
Access Comments