« Overnight Thread
|
Main
|
Obama: "Sexuality is Sacred" »
October 16, 2008
Zombeh Kittehz and Optimus Prime [krakatoa]
It was inevitable. No, not that I would write a post on Zombie cats, as if the occasional undead article were all I were good for.
Ok, that much is true.
Be that as it may, it was inevitable that the Zombie menace would threaten our lovely LoLCat Community.
Below the fold is my ground-breaking, ahem, essay on this latest undead vector.
The virus affecting kittehs is believed to be similar to the human strain, and it appears to have originated in a small Maine cemetery.
Here is an image from the late 80's, revealing the first known carrier of this new shambling epidemic.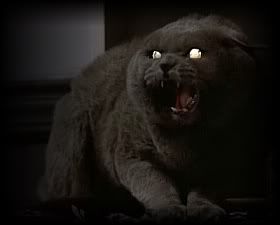 Zombeh Kitteh Ahphe Wun
The original outbreak was confined to the small town it appeared in, and was thought to be contained and exterminated.
However, shocking new photographic evidence indicates a new outbreak. This photo is from a super-secret government lab, where reportedly Scientists were trying to harness the Zombie genetic code for their own nefarious goals.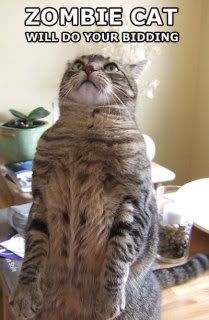 Beta experiments met with some initial success, but the so-called "Franken-Kittehs" were of limited use.
Despite the numerous documentaries on the dangers of underestimating the wiles and the motivations of one's creations, the Scientists were once again caught unawares by Murphy's Law.
As displayed by these security-camera captures, the Zombeh Kittehs found a way to feed their primal urges.
Sometimes in the traditional manner: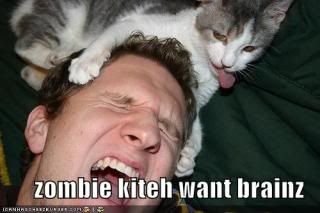 Pictured: A classic Zombie fatality.
And sometimes, by way of those ninjeh-kitteh wayz that are bred in the bonz of pheelinz:
An Evolution in Strategereh
It took little time for the lab to be completely over-run, and the last picture is the most horrifying, as it implies that this Undead menace may be working in cahoots with non-zombeh LolCats, with one goal in mind: The enslavement of humanity.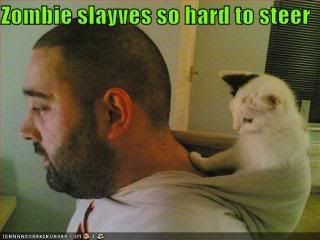 This frightful duo is codenamed "Masteh-Blasteh" by the authorities. It should be presumed extremely dangerous.
It is terrifying, I know. And I wish I could give you all some good news, after so much bad.
But it gets worse. Much worse. The battle does not go well.
Optimus Prime vs. Zombie Cat. (NSFW)
Never forget their zombehtudiness. You MUST remove their heads. And while I know they are harder to get off than Martha Stewart on dirty linens (hat tip to Dennis Miller for that one), it has to be done or we will all suffer.
I recommend the 5 ess method.
Use a spade, slap the Kitteh in the head to stun it, than stab down to sever the head.
Remember the 5 esses:
Spade
Slap
Stun
Stab
and Sever

posted by xgenghisx at
03:05 AM
|
Access Comments