« Asian Stocks Rally On News of Alien Ship Sighting Expected in Alabama
|
Main
|
Week Six Pix »
October 14, 2008
Obama's "Tax Cuts"
During the debate liveblogs, a phrase I find myself typing often is "TAX CREDITS ARE NOT TAX CUTS." It's usually in response to Barack Obama's promise to "cut taxes for 95% of Americans," a promise that as of now, has gone frustratingly unexamined by the media and largely unchallenged by the McCain campaign.
The Wall St. Journal looks at Obama's proposals, and the results aren't pretty. In addition to creating a larger de facto welfare state, the Obama tax plan would actually increase taxes on low-income and middle-class workers:
Because Mr. Obama's tax credits are phased out as incomes rise, they impose a huge "marginal" tax rate increase on low-income workers. The marginal tax rate refers to the rate on the next dollar of income earned. As the nearby chart illustrates, the marginal rate for millions of low- and middle-income workers would spike as they earn more income.

Some families with an income of $40,000 could lose up to 40 cents in vanishing credits for every additional dollar earned from working overtime or taking a new job. As public policy, this is contradictory. The tax credits are sold in the name of "making work pay," but in practice they can be a disincentive to working harder, especially if you're a lower-income couple getting raises of $1,000 or $2,000 a year.
"Spread the wealth around."
This chart shows just where that wealth is going to come from: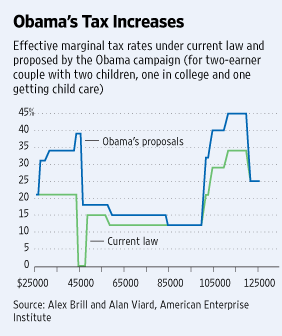 The effective marginal rate (what you actually end up paying) on middle-income workers is going to increase and the rate on those who make $100,000 and over is going to near-Canada levels of taxation. And as the Journal states, there's little incentive for low-income workers to increase their wage, lest they be punished with a higher effective rate.
For workers earning $45-$85, a 3% increase in the marginal rate may not seem all that bad, but consider that the average rate of inflation between 1997-2007 was about 2.5% and it's increased a bit faster this year. Many workers, however, do not receive wage increases that match the rate of inflation, which is effectively a wage reduction. Take another 3% out of those paychecks and Obama's tax cut plan could mean a 3-5% reduction in spending power for a good number of American families.
All in the name of "fairness."
Update - Link to WSJ piece added. Sorry about that.
Update II - Both Phil and pbrown disagree with the WSJ's conclusion regarding low-class taxes, and the latter makes a compelling case:
At the risk of being thought a concern troll, this conclusion doesn't quite follow from the article:

the Obama tax plan would actually increase taxes on low-income and middle-class workers

Marginal tax rates are the amount of tax you pay on the *next* dollar you earn. Let's say you had a hypothetical tax plan that guaranteed everyone made at least $30K. If you made $50K, you'd have a taxable income of $20K. If you made $30K, you'd pay no taxes at all. If you made $20K, you'd pay no taxes *and* get a $10K check from the guv'mint. This plan would *significantly* increase the marginal rates of low-income workers -- the marginal tax rate would be 100%! There would be no reason to work at all unless you could pull down considerably more than $30K. But despite the fact that you have this atrocious marginal tax rate, people earning less than $30K would still pay less in taxes than they did today. And they'd have a hell of a lot more free time!

Another example -- McCain's health care plan increases the marginal tax rates on some lower-income workers with health benefits. But it does so because the benefits themselves are counted as income. So if you made $30K and had $10K of employer-paid benefits, you'd have $40K of gross income. (Effectively, it shifts the marginal tax rate curve to the left.) But that doesn't mean his plan increasing your taxes, since the marginal rates don't account for the $5K credit.

That said, Obama is full of shit about his tax plan. President Clinton promised a middle-class tax cut that vanished soon after he was elected because of "economic conditions". The state of the federal budget today is a hell of a lot worse than it was in 1993, and I would expect to hear the same thing soon after election day. If The Messiah wins, you will soon hear talk of rich people earning "tenth of a million" instead of a "quarter of a million". Honestly, I think his tax increases on the "rich" and businesses are more about redistribution "fairness" than any potential revenue increase to the federal government.
I think the joke about free time communicates a sad truth about this tax plan: giveaways would provide low-income workers little incentive to increase their income. The punishing tax rates at the top end of the income scale makes a certain level of economic success unattractive, since you'd get to keep a much smaller percentage of your income.

posted by Slublog at
09:10 AM
|
Access Comments