« OK, there's a deal [someone]
|
Main
|
LOLcats Goes Commercial; also conducts leveraged buyout of Wachovia Bank (genghis) »
September 28, 2008
Sobering News about the Number 2 issue After the Economy. [krakatoa]
All too often lost in the full-court-press on our coming economic apocalypse is the far more existential threat from those head-rending hordes intent on our death.
I speak, of course, of the zombie menace.
A recent ZWN poll suggests that the economy is still #1 concern, The undead threat is#2, terrorist threats and the war in Iraq are #3 followed by the environment at #4.
While most of us focus on our bank accounts and our portfolios, you can trust that zombies are focused intently on our brains. They want them, and if we don't remain vigilant, they will have them.
A fat lot of good it will do to have a healthy economy then, what with the ravenous undead making what used to be an innocent trip to the local mall a veritable death march.
The question that must be answered is which candidate provides for our best protection from the indefatigable zombie death squads?
Luckily for you, Zombie World News is covering the stories other media outlets ignore:
Up until now, neither side has been willing to make a central issue of the world wide threat of an advancing 'Necro-Mortosis' plague. However, the McCain camp fired the first salvo at a meeting with local farmers in Idaho this weekend. When asked "who will protect us best from the necro's?" by an elderly concerned lady, McCain responded "The fine American people of this country deserve a president who has a plan and who will stick to it. A president who will not change course. Senator Obama is on record as voting against the bill for assault of May, 2007."
This bill, which would require people indicted on assault charges to be tested for necro-mortosis, is one that Democrats oppose, earning them accusations of being soft on potential zombies.
So I urge you all to remember in these trying times, while some are trying to make an intelligent decision based on all the issues, others are voting to eat your brains and other assorted soft tissues.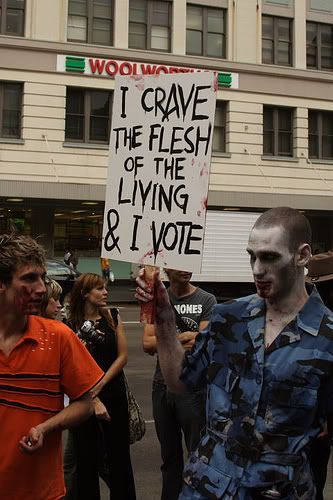 Obombies for Obama Community Organizer NNNNnngrr hNNNgh fields questions at a recent rally.

posted by xgenghisx at
03:17 AM
|
Access Comments