« Update: Now Somali Piriates Seize Ukranian Ship Carrying 33 Russian Tanks to Kenya
|
Main
|
Senate Republicans Block Democrat Supported Stimulus Bill (Aurvant) »
September 26, 2008
Maniac: Andrew Sullivan Giddy as a Schoolgirl That He Got "Confirmation" that Trig's Parentage a "Legitimate Issue"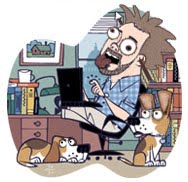 Finally, An On-The-Record Confirmation From McCain
26 Sep 2008 12:33 pm
The Washington Post yesterday asked the McCain campaign on the record whether Trig Palin is Sarah Palin's biological son. Howard Kurtz, one of the most prominent media journalists in the world, asked that question.
By answering the Kurtz question on the record, McCain spokesman Michael Goldfarb is indeed saying that this is a legitimate factual question, as it is. Here is the answer, the first on-the-record confirmation of Sarah Palin being the biological mother of Trig, courtesy of the Washington Post:
"These rumors are false. It is her baby. The whole thing is absurd. All of this rests on the fact that she wore her pregnancy extremely well. A couple of months later, there are a ton of pictures showing she is obviously pregnant. It's ridiculous. There's just nothing to it. We're not going to release her gynecological records to prove it. It's just madness."
I am delighted to publish this statement from the McCain campaign. I have always been delighted to publish factual statements by any campaign. I have been waiting to publish such a clear confirmation for almost a month.
[End quote.]

But hold on -- Andrew Sullivan, Internet Detective, is still on the case!
[Further quote:]
The only trouble with this statement from the McCain campaign is that it is untrue in one respect.
In fact, Kurtz had to add an update to correct the quote he did not fact-check before publishing:
Update: In the interest of being precise, it is not true that there are "a ton" of pictures of a pregnant-looking Sarah Palin out there from earlier this year. I can recall seeing only two, and a Google search didn't turn up any others. So I went back to Michael Goldfarb and asked whether he had an estimate of the number of such photos. "I've seen a couple of pictures of her looking extremely pregnant," he said. "I don't remember how many I saw." Could he guide me to what the campaign had? "We never took this seriously enough to assemble it," Goldfarb said.
So the McCain campaign called two photographs a "ton" and Kurtz printed their untruth without even checking Google. That tells you a lot about the ethics of Michael Goldfarb and a lot about the journalism of Howard Kurtz. Kurtz is happy to publish statements from the McCain campaign without even checking their veracity in Google.
[End quote.]
Meanwhile, Andrew Sullivan, Internet Detective, could call up the Anchorage press, which can tell him "Yes, Sarah Palin was visibly, hugely pregnant for at least two months before delivering her baby," but apparently that's too much work for him.
Gif courtesy of McGurk.
Incidentally, the "most popular one-man blog in the world" feels that crawling up the Palin family's uteruses is the most pressing story of the day.
Other people are talking about the credit crisis.
Priorities.
As I've said, a hundred times: Why does Andrew Sullivan do this? Because he's incapable of writing about anything else. He's only in his comfort zone when he's analyzing Melrose Place level "issues."
He's like Maureen Dowd, only not funny.
Wait -- Maureen Dowd is like Maureen Dowd, only not funny.
Well, he's like Maureen Dowd without the Pulitzer.
Or a basic understanding of the female reproductive cycle.
I swear to God, Sullivan -- if you merely Google "vagina," you won't get girl-cooties.
Oh: He's giddy, you understand, because he desperately wants someone to acknowledge this as a "legitimate issue," as he claims Michael Goldfarb does by labeling it "madness," which is how people usually refer to legitimate issues.
And he needs that because the editors of gay gossip site and antisemitic conspiracy newsletter The Atlantic told him he was bananas, and that he was embarrassing the magazine, and that he had better stop it if he wished their association to continue. As he hinted darkly after this little chat, "some issues are apparently not fit for mainstream establishment Beltway discussion," or words to that effect.
This is a great day for him because he thinks he can now present this to the editors of gay gossip site and antisemitic conspiracy newsletter The Atlantic and squeal (girlishly), "LEGITIMATE ISSUE!"
I don't know if they're going to see it that way.
Michael Goldfarb just called him a lunatic, but he thinks the Warren Commission just agreed to re-open the Kennedy assassination case.
Bugs!
Hmmm... Five minutes after I call attention to Sullivan's madness, Marc Ambinder, blogger at gay gossip site and antisemitic conspiracy newsletter The Atlantic, links Kat-Mo's piece defending Palin.
Marc Ambinder never links this site.
Is Marc Ambinder actually trying to draw attention to the embarrassment Sullivan and pressure his editors to fire him?
Hey -- it's a wild conspiracy theory for which I have no evidence.
But -- as always -- I'm "just airing questions."
Release the documentation, Marc. Provide timestamped screenshots that you were reading Kat-Mo's post on Palin rather than my post on Sullivan just before you linked the site.
No documentation? Well. I guess that tells you something about Marc Ambinder's journalistic ethics, eh?
I think I just got confirmation that Sullivan's degenerating brain and advanced dementia is a legitimate issue.

posted by Ace at
03:39 PM
|
Access Comments