« Palinmania Claims New Victim: Sally Quinn (?)
|
Main
|
"Proud of the GOP:" Bill Whittle's First Article for NRO »
September 05, 2008
Obama: "We're Not Going to be Bullied"
Oh for Christ's sake call a waaahmbulance already, Buttercup.
How is this sissy going to stand up to someone a bit more menacing than Sarah Palin?
"We're not going to be bullied, we're not going to be smeared, we're not going to be lied about," Obama said. "I don't believe in coming in second."
Don't worry, Princess. You'll be coming in third, Joe Biden in fourth.
He said this while attending a fundraiser hosted by long-haired ex-prettyboy Bon Jovi, incidentally. Then they went out shopping for "outfits."
He's smeared her in the most vile ways through his surrogates, and claimed she was a fluffybrained muffinheaded chillbilly bumpkin beauty queen from "Wasilly" Alaska, and now he's up there resolutely swearing he won't let a 110 pound woman "bully" him?
What are you afraid she's going to do to you, Stacy? Adorable you to death?
Oh, and by the way, Candace, you are going to be bullied: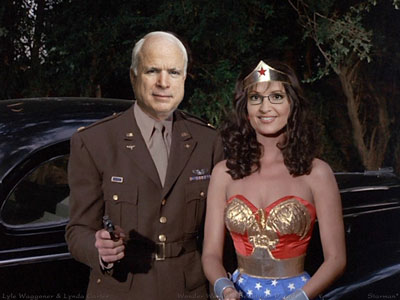 Thanks to Slublog for both the tip and the photoshop.
Slublog comments: "This guy has to have the most acute martyr complex I've ever witnessed. And to answer with bluster and faux bravado? He's about as tough as a whimpering puppy."
Indeed.*
The endless caterauling and whiiiining and poor-me-ing. Oh Mommy MSM, please save me from the bad lady.
God have mercy, sack up if you've got a sack at all.
Hat tip to Allah for "chillbilly."
* Well, the second-most acute martyr complex at least, after Shrieking Sullivan.
Incidentally, I have to say something. It's mean, but it's dead on. If you are familiar with Sullivan's oevure, you know he only has three modes of emotion, and they're readily apparent in his writing.
1) gushing infatuation and crush-diary excess,
2) deranged, nearly psychopathic anger and viciousness when either he or the current object of his borderline personality disorder fixation is threatened;
3) dark, dark blues of deep depression, when his posts become brief, shrill, disbelieving, and sounding notes of despairing futility.
He had been in Mode 2 earlier in the week. Since Palin spoke, he's trying to rally some Mode 2, but mostly he's in Mode 3.
Does this remind you of anyone you know from film or fiction?
I'll give you a hint: Dirty Birds.
I'll give you another hint: Hobbling.


posted by Ace at
10:15 PM
|
Access Comments