« Top Headline Comments 09-04-08
|
Main
|
Reaction to "The Speech" from Flyover Country »
September 04, 2008
Mayor Kwame Kilpatrick (Democrat And Supporter Of Law School Senior Lecturer Barack Obama) Pleads Guilty Will Resign
The man community organizer Barack "Judgment Matters" Obama once said was "a great mayor" and "doing an outstanding job" has pleaded guilty to lying under oath.
Detroit Mayor Kwame Kilpatrick has pleaded guilty, ending a nearly eight month drama that has transfixed the region, paralyzed much of city business and halted a political career that once held such promise.

The deal calls for Kilpatrick to plead guilty to two felony counts of obstruction of justice by committing perjury, agreeing to serve four months in jail, pay up to $1 million in restitution, and serve five years' probation. He also agreed not to run for office during that five-year span.

The mayor will turn over his state pension to the City of Detroit, which paid $8.4 million to settle two whistle-blower lawsuits three former cops filed against the city. The mayor was charged with eight felony counts ranging from conspiracy to perjury to misconduct in office to obstruction of justice after the Free Press revealed that the mayor lied on the witness stand during a police whistle-blower trial and gave misleading testimony about whether he intended to fire a deputy police chief investigating allegations of wrongdoing by members of his inner circle.
So let's recap...community organizer Obama says an admitted felon is "a great mayor" but Sarah Palin is just the mayor of small town "Wasilly" (sic) and doesn't count.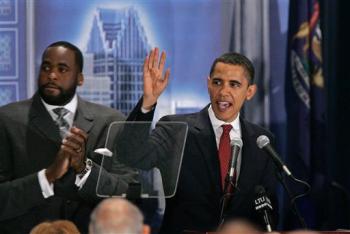 Obama is right, judgment matters.

posted by DrewM. at
12:28 PM
|
Access Comments