« Did Anyone Just See the Megyn Kelly Interview with the US Magazine Hit-Piece Writer?
Sweet Sweet Video Interrogation Added
|
Main
|
Andrew Sullivan's Degenerated Brain Also Prevents Him from Detecting Sarcasm »
September 03, 2008
Sarah Palin bikini pics - we got'em!
Obtained from unimpeachable sources up in Alaska. They swear on a stack of bibles this is the real McCoy, so I'm just gonna run it without bothering to actually verify anything.
[UPDATE - below the fold]
OK, I'm hearing ugly whispers that some people think this pic might just be a forgery, so I'm going to elaborate on how it was obtained.
I got off the plane in Anchorage yesterday and was approached by three guys, lets call them Dan Blather, Bill Furkette, and Peter Jarnett. These are made up names of course to protect their real identity. Apparently someone had leaked to them that I was inbound and looking to score some really juicy goods on Palin -- headshot kinda stuff. i.e. The sort of thing that would have her dropping out of the race in a matter of days. They apparently also knew that I was toting a duffel bag full of unmarked cash and was willing to spend lavishly for high quality material.
After some smalltalk, the usual stuff, Bushitler, Halliburton, etc they took me back to their hotel room where they all stripped naked and offered to do a gay orgy with me. That's not the way I roll, so I respectfully declined and headed down to the bar for an hour or so while they did whatever the hell it is that three naked guys do in a hotel room where there ain't no women present.
Their orgy offer had me kinda shaken, so naturally I drank rather heavily at the bar and pounded down about 12 double martinis in a half hour. In retrospect, it may be possible that alcohol may have affected my judgment later on.
Stoutly fortified, I headed back to Dan, Bill and Peter's hotel room to see what precisely it was that they were hawking and how much they wanted for it. They were back in their clothing when I arrived, which was a bit of a relief and they offered me a seat at the edge of the bed. The bed looked like a bukake scene out of some Japanese porn flick, so I decided just standing was the way to go.
Cutting to the chase I say, "what have you got to show me?". Wrong question, because they all started taking their cloths off again. "Wait, wait", I scream, "I'm talking about your alleged Palin slam package, not your freaking crotch rocket packages".
Dejectedly they all pulled their pants back on again and Dan pulled an large envelope out from under on of the pillows on the bed and removed the pic you see reproduced here and pronounced "hot stuff eh!". Well after 12 martinis, I suppose they could have showed me a picture of a zucchini and claimed it was Palin sucking off the whole offensive line of the Green Bay Packers and I'd have believed it. Alcohol will do that to you.
Now the negotiations begin in earnest.
"We need a million bucks for this PA" says Bill.
"No problem" I fire back.
"Really?" chirps Dan.
"Really" I reply.
"No shit, you got a mil in that bag?" asks Peter in disbelief.
"Yup, I do"
So they fork over the pic and I hand'em the bag and we all scatter and bolt out of the hotel laughing like madmen. Apparently they thought they'd really put on over on me getting a million bucks for the pic. What they failed to realize is that I'd put one over on them instead -- my last stop had been Harare Zimbabwe. That bag didn't have enough Mugabe-bucks in it to buy a stick of gum.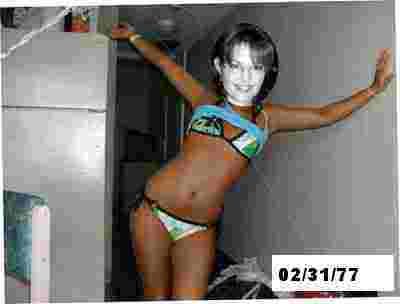 posted by Purp at
07:13 PM
|
Access Comments