« Post-Modern Problems: How Do You Include the Inarguably "Diverse" Solzhenitsyn in Intro to Lit Classes While Making Sure Students Resist His "Non-Diverse" Message?
|
Main
|
Top Headline Comments 08-15-08 »
August 15, 2008
Wife Swap Seeks Cornhole Fanatics!
Cornhole -- It's buttloads of fun!
ABC's Hit Television Show "Wife Swap" Seeking Cornhole Fanatics!

The hit reality show, "Wife Swap," is doing a national casting call for the ULTIMATE Cornhole Family...!
That title would look just lovely on a Christmas card.
We are looking for fun, outgoing and entertaining families with big personalities that love to play Cornhole – and who would be excited to share their lifestyle with another deserving family!
Does ABC guarantee immunity from prosecution?
"Wife Swap" takes two families from across the USA and swaps one parent from each household for a week to experience how another family lives. It is an incredible family-friendly experience and provides a unique opportunity to both learn and teach different values....
I should say so.
Due to security restrictions, military families are not eligible at this time.
Stiffs.
Outgoing, dynamic and adventurous families who are interested in applying can contact Meghan McGinley at Meghan.McGinley@castingrdf.com or call (646) 747 7936. Hurry! This Casting Call will end August 18th!
That only gives me three days to build up my pelvic wall.
Thanks to JasonF.
Coincidentally, I actually saw my first Cornhole-ing this weekend. I can confirm it's not merely an elaborate internet hoax: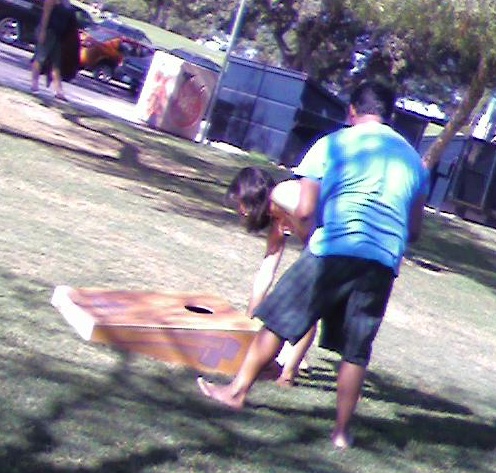 A woman bends over for the Cornhole
while her boyfriend stands ready in the classic "pitcher" stance.
Cornhole: Men love it. Women can learn to appreciate it. On special occasions.
My date did not believe me that the game was called Cornhole until I asked the guy to tell me the game's name.
By the way: If you don't know what I'm talking about, "Cornhole" is a game that's growing in popularity. You throw bags (sometimes filled with cornmeal) at an angled box with a hole in it. Corn... hole.
It started in Cincinnati but is now going national. People in Cincinnati are either 1) cluelessly naive or 2) recklessly filthy to name a pastime popular with children after a pastime popular on Oz.
Some vendors are attempting to re-brand the game "Tailgate Toss," but so far the name "Cornhole" is sticking. Although I have referred to it as "Competitive Freestyle Sodomy," too.

posted by Ace at
05:15 AM
|
Access Comments